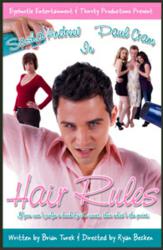 One male underwear model & one male masseur becoming room mates makes for a very hairy situation
(PRWEB) October 23, 2011
45 minute Independent comedy movie "Hair Rules" with actor Sasha Andreev and actor Paul Cram is playing as a part of the 3rd annual Houston Comedy Film Festival on November 3rd at 7:15pm at The Alamo Drafthouse Cinema West Oaks Mall, #429, Houston, TX, 77082
Tickets $10 and can be purchased from DraftHouse Cinema online Watch the Hair Rules underwear model comedy movie Trailer
Bruce (played by Sasha Andreev) is an aspiring male underwear model. Life is great. He has the sizzling male model looks, he has gorgeous women throwing themselves at him, and he has great hair. The only thing he is missing from having it all: a big break into a legit modeling career. To continue pursuing that he needs a rent-paying roommate.
When Carl (played by Paul Cram) appears on the scene, he seemingly is the perfect fit to Bruce's picture perfect existence. Carl pays his rent on time, cleans up after himself, and he even has bad hair.
So just why does Bruce plunge into a downward spiral following Carl's move in? All the hot women stop calling and hounding him for dates, potential modeling gigs dry up, and his hair just goes haywire. Is Carl an energy sucking vampire? See what happens in "Hair Rules."
The Full Line Up of Films Showing at the Festival on November 3rd at 7:15 PM - (120 Minutes Total)
"Behave" - Directed by Don Worley (Houston, Texas)
"Brown Duck" - Directed by Ryan Becken (Apple Valley, Minnesota)
"Deadbeat TV Vol. 2" - Directed by Steven Katz (Houston, Texas)
"Earthbound" - Directed by Jose Asuncion (Los Angeles, California)
"Hard Rubbish" - Directed by Steve Mitchell (Maid Stone, Australia)
"Hair Rules" - Directed by Ryan Becken (Apple Valley, Minnesota)
"Vampire Vampire Vampire Vampire" - Directed by Brenton Stumpf (Santa Monica, California)
"What's Life Got To Do with It?" - Directed by Noah Weisberg (New York, New York)
Two Fun Facts About The Film:
1. "Hair Rules" was filmed and edited in Minneapolis/St. Paul, Minnesota.
2. The role of "Carl" was originally written for an obese bald man. After Paul auditioned, the role was re-written to accommodate Paul's skinny body type and his non-bald head. Paul said, "I read about the project online and fell in love with the character. The director's response to me was was funny- 'You do realize you aren't obese right?' I was super glad that he wasn't closed off to the idea of having someone audition that didn't fit the character description perfectly."
About The Hair Rules Production Team:
"Hair Rules" is produced by Eyehustle Entertainment & is a Thirsty Production of a Bryan Turek film. Starring Sasha Andreev, Paul Cram, Amber Johnson, Jenelle Kidd, and Amity Carlson. "Hair Rules" written by Bryan Turek, directed by Ryan Becken, with Cinematographer Nick Hillyard working as D.P., Sound by Seamlesssound, Music by Bryan McDonald, Edited by Ryan Becken, Produced by Brian Turek.
###