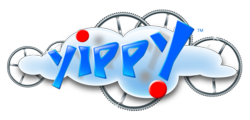 The Company has converted all material debt agreements on the balance sheet.
Ft. Meyers, Fla. (PRWEB) October 19, 2011
Yippy, Inc. (Pinksheets: YIPI) (http://www.yippy.com) ("Yippy" or the "Company"), providers of the world's fastest, family friendly educational search engine and web portal, reports today that in line with a previous public disclosure made on, April 25, 2011, the Company has entered into an agreement dated October 14, 2011 with Vivisimo, Inc., ("Vivisimo") for a debt to equity conversion of two promissory notes totaling $5,000,000.00 (Five Million) dollars. Yippy has also paid its accrued interest obligations in full.
The Company believes that the terms of the conversion negotiated are highly favorable for both shareholders and Company. 2.5 million Shares of restricted common stock are to be issued to Vivisimo at $2.00 per share to satisfy the Notes, which represents a very reasonable valuation of Yippy.
"Since May 31, 2011 the company has converted $5.7 million in Convertible Notes at $2.00 per share. I think that says a lot about our future outlook, and will make raising capital much easier as the Company has converted all material debt agreements on the balance sheet," stated Rich Granville, CEO, Yippy.
Granville continues, "Our business has been public two years this month. It's been a hard, tough road at times, but the people at the core of Yippy are giving it their all every day. We believe in what Yippy can be and expect Ad-tech NYC 2011 to be the launching pad for our products and Custom Search capabilities. I think the http://www.football.yippy.com project has opened many eyes to how powerful customized "topic" oriented search products are. It is the quality of the results and our unique processes that make Yippy a superior product."
April 25 Disclosure: http://www.otcmarkets.com/stock/YIPI/news/Yippy%2C-Inc.-Reaches-Terms-for-Unilateral-Debt-Conversion?id=29178&b=y
About Yippy, Inc.
Based in Fort Myers, Florida, Yippy, Inc. (http://www.yippy.com) is a new economy technology company that develops technologies and application services environments for both consumer and commercial market segments.
Forward-Looking Statements
Statements in this press release that relate to the Company's expectations with regard to the future impact on the Company's results from new products in development are forward-looking statements within the meaning of the Private Securities Litigation Reform Act of 1995. These statements are subject to risks and uncertainties. Words such as "expects," "intends," "plans," "may," "could," "should," "anticipates," "likely," "believes" and words of similar import also identify forward-looking statements. Forward-looking statements are based on current facts and analyses and other information that are based on forecasts of future results, estimates of amounts not yet determined and assumptions of management. Readers are urged not to place undue reliance on the forward-looking statements, which speak only as of the date of this release since they involve known and unknown risks, uncertainties and other factors which are, in some cases, beyond our control and which could, and likely will, materially affect actual results, levels of activity, performance or achievements. We assume no obligation to publicly update or revise any forward-looking statements in order to reflect any event or circumstance that may arise after the date of this release, even if new information becomes available in the future. Additional information on risks and other factors that may affect the business and financial results of Yippy, Inc. can be found in the filings of Yippy, Inc. on OTC Markets (http://www.otcmarkets.com).
Contact:
R. Granville
Investor Relations
Yippy, Inc.
1-877-YIPPY01
###