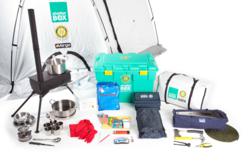 This documentary shines light on the needs of disaster survivors
Sarasota, FL (PRWEB) October 19, 2011
Two-time Emmy and 26-time Telly award-winning Salt & Light Productions® has produced a short-form documentary for ShelterBox USA, an international disaster relief charity whose mission is to provide shelter, warmth and dignity to disaster survivors worldwide.
ShelterBox, whose U.S. affiliate—ShelterBox USA is located in Sarasota, Fla., instantly responds to earthquake, volcano, flood, hurricane, cyclone, tsunami or conflict by delivering boxes of aid. Each iconic green ShelterBox contains a disaster relief tent for an extended family, stove, blankets and water filtration system, among other tools to help a family survive the immediate aftermath and begin to rebuild their lives.
A core program service of the Center for Faith and Freedom®, Salt & Light Productions® produces issue-based documentaries that support educational and religious institutions, non-profit organizations and the government by creating multi-media presentations that enlightens the public on the special needs of the hurting, less fortunate and sometimes overlooked members of society.
"We are extremely honored to have the support of the Center and the Salt & Light team," said Emily Sperling, ShelterBox USA president. "This documentary shines light on the needs of disaster survivors and the work of ShelterBox to provide shelter, warmth and dignity in the immediate aftermath."
She added, "With the team's help, we'll continue to raise awareness about our life-saving mission, ensuring we can continue to serve the world's most vulnerable families."
The six-minute short-form documentary can be viewed at http://www.youtube.com/shelterboxus.
"It was a privilege for us to partner with ShelterBox USA on this important project," said Stuart Roth, founder of the Center for Faith and Freedom. "I have been so impressed by the dedication and professionalism of their staff as they travel the world helping others who have suffered great losses in their lives."
The Center for Faith and Freedom® is a dynamic faith-based charitable organization that has been serving communities across this nation since 1989 with a wide variety of original program services. Lead by its president and CEO, Stuart J. Roth from its inception, the Center has been at the cutting edge of the multi-media industry in creating, producing and syndicating not only original programs for broadcast television but award-winning documentaries addressing the nation's most complex social, economic and spiritual issues. The Center's headquarters in Sarasota, Florida includes a state of the art production complex with three editing suites, two studios, and an education and conference facility.
Since 2000, ShelterBox has provided shelter, warmth and dignity following more than 150 disasters in over 70 countries. Individual tax-deductible donations to ShelterBox USA can be made at http://www.shelterboxusa.org, (941) 907-6036 or via text message by sending SHELTER to 20222 for a one-time $10 donation. Location and time specific donations cannot be accepted.
# # #