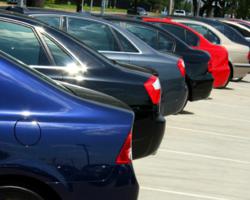 Many car rental firms reported a 30% increase within the first ten days of the tournament.
Auckland, New Zealand (PRWEB) October 21, 2011
New Zealand car rental companies are reporting a surge in business of around 30% as a result of the Rugby World Cup, in stark contrast to the retail industry which has been complaining of stagnant revenue figures.
The car hire industry isn't the only sector enjoying increased cashflow: foreign credit card spending as a whole was up a total of 32.5%, or $12 million, in the first 10 days of the World Cup compared with the same period a year ago. Paymark, who handles 75% of all electronic transactions in New Zealand, labelled this "huge".
Many car rental firms are reporting a 30% increase during the first ten days of the Rugby World Cup, and the entire industry saw a massive sales boost of an extra $2.1 million in year-on-year spending. The greatest increases in car rental revenue occurred in Auckland (especially Auckland Airport car rental depots), Northland, Waikato, Taupo, Taranaki, Otago and Southland.
Additionally, bonus car rental business from New Zealand's biggest sporting event is likely to be even higher than these figures. This is because the majority of car rental companies require deposits to be paid off at the time of booking, which may be months in advance. The same is true of 'call out fees', required when cars are delivered to travellers (usually at the airport) due to flight arrival times which occur outside normal business hours. Some customers also prefer to pay off the full balance prior to arrival at the depot, to ensure they'll be guaranteed a car.
A number of commentators are predicting the boom in the car rental market to stretch well beyond the end of the Rugby World Cup, with international rugby fans taking time out to travel around the country once the lights go out at Eden Park. Tourists staying in Auckland or Wellington may well have been able to manage during the tournament without a personal vehicle. The popularity of the Fan Trail to Eden Park, teeming with thousands of rugby supporters before every game, is testament to this.
However, many tourists have plans for an extended stay, enabling them to take in some of the beautiful scenery and tourist attractions New Zealand has to offer. And private car rental is generally recognized as the only realistic way to freely travel New Zealand.
Omega Car Rentals has depots in Auckland, Wellington, Picton, Nelson, Christchurch and Queenstown, and are expecting to see increased business in the coming weeks compared to the same period last year in all the areas they service. But only time will really tell whether rugby fans are prepared to open their wallets further.
###