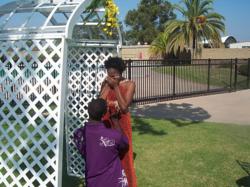 We learned that life is unpredictable, can present incredible challenges and that with love anything is possible.
Los Angeles, CA (PRWEB) October 19, 2011
At MCAS Miramar's 8th Annual Ball Gown Giveaway on Sunday, October 16, Robbins Brothers, The Engagement Ring Store helped San Diego customer, Marine Lance Corporal William Bell, surprise his girlfriend Leianna Seals with an unsuspecting, tear-jerking marriage proposal. Leianna flew from New Orleans to San Diego with her mother Vera Seals under the impression that she won an opportunity to be one of the first ladies to pick a free gown for the Military Ball next month. After her arrival to the event and the staged VIP treatment she received including the proposal, Leianna found out that her loving boyfriend William was actually the winner of a contest.
Robbins Brothers and Marine Corps Community Services—Miramar invited active military members to share their love story for a chance to win a $2,000 gift certificate to Robbins Brothers for the ring, plus a unique marriage proposal opportunity at the Ball Gown Giveaway. Bell wrote a moving essay about how he and Leianna met in high school in New Orleans after Hurricane Katrina. "We learned that life is unpredictable, can present incredible challenges and that with love anything is possible," he said. "An amazing marriage proposal and ring will symbolize the strength we have as a couple and the beautiful life we have ahead of us in the future."
Bell's essay touched the judges' hearts and he secured the chance to ask Leianna to spend forever with him in front of several guests and well-wishers. Stunned, tearful and happy, Leianna said 'yes!' Shortly after the proposal she also learned that in addition to receiving a free ball gown, she was able to select a free bridal gown too as a congratulatory gift for her engagement.
Robbins Brothers engaged with other women at the event who might be looking forward to their own marriage proposal or vow renewal celebration someday. The company sponsored a table that showcased the latest diamond engagement ring and wedding ring styles along with raffle giveaways for fashion jewelry that wives and girlfriends could wear to the Military Ball. Robbins Brothers showcased its new Video Ring Box by Americhip which allows deployed soldiers or other members of the military to customize their proposal with a personal video that begins playing as soon as the bride-to-be opens the box.
"This is such a wonderful and charitable event that MCAS Miramar hosts every year," commented Diane Ferraro, director of advertising for Robbins Brothers. "We are grateful for the opportunity to give back to the military community and also help another couple's engagement dream come true."
###