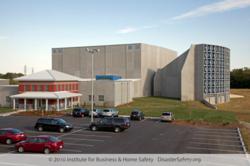 This first year at the IBHS Research Center has been very exciting and we look forward to many more productive years to come.
Tampa, Fla. (PRWEB) October 19, 2011
The Insurance Institute for Business & Home Safety (IBHS) has changed the face of building science research with the opening of its multi-hazard research center in South Carolina.
While only open for one year, researchers at the facility already have conducted several residential and commercial research programs, the results of which have been translated into real-world applications for home and business owners.
"Our work is aimed at building stronger, safer structures that ultimately will lead to more disaster-resistant and resilient communities," said Julie Rochman, IBHS president and CEO. "We have achieved a number of important goals during this first year, including:

Graphically demonstrating the life safety and cost benefits of properly tying together homes so they can resist high winds.
Identifying and evaluating a simple, inexpensive and workable solution to a previously undetected failure mode for residential construction subjected to high winds and pressurization.
Partnering with the U.S. Department of Homeland Security, U.S.D.A. Forest Service, and Savannah River National Laboratory to evaluate and demonstrate the dangers associated with more than one dozen potential wildfire ignition points found in typical residential construction.
Clearly demonstrating why and how sealed roof decks can prevent extensive interior water damage to houses subjected to high winds and wind-driven rain. Data and learning from these tests is being used to educate the building industry and consumers about relatively inexpensive ways to seal roof decks and reduce water intrusion.
Completing rigorous scientific validation of the capability to reproduce highly realistic windstorms, fire embers storms, and wind-driven rain.
The IBHS Research Center can accommodate one- and two-story full-size structures in its 21,000 square-foot test chamber and subject them to simulated Category 1, 2 and 3 hurricane-force winds, extra-tropical windstorms, thunderstorm frontal winds, wildfire ember showers, wind-driven rain and hailstorms. The facility has a massive array of 105 fans, which together can generate winds up to 140 mph.
"Property insurers and reinsurers contributed millions of dollars during very challenging economic times to help build this unique, state of the art, world-class center, which will yield critical data that will change the way we design and construct buildings," Rochman said. "Without their deep commitment to making fundamental changes in the way we think about and construct our built environment, none of this would be possible."
Going forward, IBHS researchers will focus on improved roofing performance.
"Roof covers are replaced more frequently than any other building component, which means that changes in roofing products and installation techniques should lead to significant cost savings," explained Rochman. "We will start 2012 with research on hailstorms because learning how to make roofs more impact resistant will be a win-win for policyholders and insurers."
"This first year at the IBHS Research Center has been very exciting and we look forward to many more productive years to come," Rochman concluded.
To arrange an interview with IBHS, contact Joseph King at 813-675-1045/813-442-2845, jking(at)ibhs(dot)org or via direct message on Twitter @jsalking.
About IBHS
IBHS is an independent, nonprofit, scientific and educational organization supported by the property insurance industry. The organization works to reduce the social and economic effects of natural disasters and other risks to residential and commercial property by conducting research and advocating improved construction, maintenance and preparation practices.
###