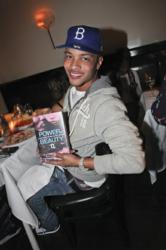 New York, NY (PRWEB) October 19, 2011
On October 17, 2011, Men's lifestyle fashion brand AKOO Clothing hosted a star studded dinner party to celebrate the release, Power & Beauty, the debut novel by AKOO's Co-founder, Grammy award winning artist, actor, and producer, Clifford "T.I." Harris. Held inside an intimate setting at the ultra-chic Philippe restaurant in Manhattan, 50 celebrity heavyweights from music, sports, film and fashion all came out to show support. During the affair, guests received signed copies of Power & Beauty along with a lavish gift bag courtesy of AKOO Clothing.
The celebrity filled evening event included Super producer Swizz Beatz, Young hip hop star J. Cole, BMX superstar Nigel Sylvester, Los Angeles Lakers Derek Fisher, New York Giants Deon Grant, rap icon Jadakiss and many others. "We're happy and extremely proud of T.I.'s newest achievement adding novelist to his repertoire and seeing him grow into this multi-talented and inspiring individual," states Jason Geter, Co-founder of AKOO Clothing and CEO of Grand Hustle Records.
"Throughout the entire event, guests made their adoration known from the enthusiasm level and the amount of hugs to T.I. regarding his first novel debut. It goes to show we're all very excited about this new success with T.I. and more successes to follow," states Jeff Belizaire, Director of Marketing for AKOO Clothing.
AKOO Clothing is the new Americana fashion go-to brand for top fashion and innovation nationally and internationally. Global trendsetting celebrities, athletes, musicians, and actors have become fans of the brand including Larry King. Some of these prominent fans have even taken it a step further by aligning themselves and their projects with AKOO such as B.o.B, Curtis Granderson, Carl Crawford, Hosea Chanchez, Travis Porter, Tristan Wilds, Meek Mill, and Mickey Factz to name a few. AKOO has been featured in national print publications including VIBE Magazine and GQ, who also named AKOO's founder T.I., one of the "10 Most Stylish Men in America" in their magazine issue.
ABOUT AKOO CLOTHING
AKOO, an acronym for A KING OF ONESELF, is a men's contemporary clothing line that exudes a unique sense of elusive style that is versatile to one's own lifestyle. The brand offers the highest quality of materials and craftsmanship including distinctive prints and fabrics that are unmatched from comfortable denim with custom embroidery, stylish leather jackets, detailed sweaters and durable lightweight tees as well as button downs and polos. AKOO, was founded by Grammy award winning artist, music and film producer, song writer and actor, T.I., and his business partner and Grand Hustle Entertainment CEO, Jason Geter. AKOO is manufactured and distributed by RP55 Group. AKOO is donned by celebrities including actors, musicians and athletes. The brand has been featured on TV, in videos, online, and in print media from around the world. The AKOO Clothing showroom is located at 230 W. 39th Street, 7th Floor, New York, NY, 10018. For more information on AKOO Clothing, visit http://www.akooclothingbrand.com and Facebook via http://www.facebook.com/akooclothing and Twitter via http://www.twitter.com/akooclothing.
For more information and or press interviews, please contact Tamara York of Tamara York Public Relations, email Tamara(at)tamarayorkpr(dot)com.
# # #