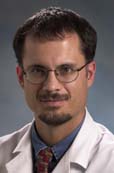 Rare diseases such as sarcoma are best managed by an experienced multidisciplinary team at a comprehensive cancer center.
Chicago, IL (PRWEB) October 24, 2011
Hundreds of sarcoma doctors from around the world will meet here this week. But don't let the crowds fool you -- the physicians are as rare as the cancer they treat, says Dave Murphy, board member of the Sarcoma Alliance.
The Connective Tissue Oncology Society and the Musculoskeletal Tumor Society will hold a joint annual meeting Wednesday through Saturday. Murphy, who lives in San Pedro, Calif., will be among the advocates who attend. This week also marks the 12th anniversary of his wife's death from malignant fibrous histiocytoma, a subtype of sarcoma.
"I get a little numb this time of year," he says.
The Sarcoma Alliance also was founded in 1999, and Murphy has been volunteering ever since. He has gone to every CTOS meeting since 2002. The computer lab specialist moderates the Alliance's discussion board and chatroom. For at least five years, he has helped run its assistance fund, which gives grants to people who have to travel to get a second opinion.
Travel is common because more than half the states in America -- including Illinois -- lack a multidisciplinary sarcoma center that treats adolescents and adults, Murphy says. (The Chicago area does have sarcoma doctors who participate in clinical trials.) The Alliance just updated its list of multidisciplinary sarcoma centers.
Many people with sarcoma could live longer and better lives if they saw a sarcoma specialist sooner, Murphy says.
In 2004, the National Cancer Institute convened the Sarcoma Progress Review Group, which recommended patients be treated at multidisciplinary sarcoma centers. It reported that many patients fail to get state-of-the-art care. They may not know that sarcoma specialists and multidisciplinary centers exist. Or, they may lack the desire, time or money to travel to one.
"Additionally, physicians and surgeons in small- and moderate-sized hospitals often want to maintain control of patients … for economic and other reasons," the PRG report says. "However, many physicians do not appreciate how complex the care of sarcoma patients has become and are not aware of the many alternative care strategies available."
Parents may need to travel to get their younger children seen, and they also can apply for grants, but they have more options, says Alliance President Joan Darling, who also volunteers with the Children's Oncology Group, which has a map of its member hospitals.
"My feeling is that any pediatric hospital is suitable for the three common pediatric sarcomas: rhabdomyosarcoma, osteosarcoma and Ewing," says Darling, a biologist in Lincoln, Neb. Her daughter survived rhabdomyosarcoma.
Because there is no official designation or board certification for a "sarcoma specialist," people may define it differently, she says. The PRG report listed criteria for multidisciplinary sarcoma centers, and the Alliance has updated them:

A sarcoma medical group consisting of all specialties, including surgical, orthopedic and medical oncologists; radiologists; pathologists; and oncology nursing as well as rehabilitation services.
At least one group member who belongs to a sarcoma-oriented medical organization, such as the Connective Tissue Oncology Society (CTOS).
Publications concerning sarcoma in peer-reviewed journals.
Sarcoma conferences (e.g. Tumor Board), where sarcoma group members meet at least once per month to discuss patient care issues.
At least 100 sarcoma patients seen per year.
MRI imaging available; PET scans desired.
Patient enrollment in clinical trials.
Strong support personnel such as social workers, psychologists and psychiatrists.
Sarcoma support group desired.
"Since there are approximately 50 types of sarcoma, accurate diagnosis by a world-class pathologist is the first step in an optimal treatment plan. Surgery, radiation therapy and chemotherapy are all critical approaches toward treatment of the primary tumor, prevention of tumor spread, and therapy of sarcoma even after it has spread to other sites. Radiologists are key to diagnosis, recurrence, and assessment of response to therapy. Rare diseases such as sarcoma are best managed by an experienced multidisciplinary team at a comprehensive cancer center such as The Sylvester Cancer Center in Miami," says Jonathan Trent, MD, PhD, a sarcoma medical oncologist who recently moved to Miami from the M.D. Anderson Cancer Center in Houston. He will present research at this week's meeting in Chicago.
Especially with a rare cancer, most doctors will not mind if a patient seeks a second opinion. It's a bad sign if a physician is offended, Murphy says. Sarcoma centers allow patients to schedule appointments without a referral from their current physicians, although some insurance plans may require a referral for reimbursement. Sarcoma centers often can help patients with insurance questions, as well as travel plans.
After getting a second opinion, some patients may choose to get part or all of their treatment closer to home, with a doctor in the sarcoma center consulting with the local doctor, Murphy says. If nothing else, a second opinion may reassure patients that they are getting the best treatment available.
The Sarcoma Alliance, a national nonprofit based in Mill Valley, Calif., offers guidance, education and support for people affected by sarcoma.
###