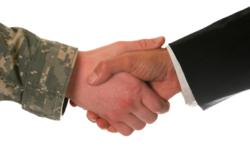 this is the best source of military talent that we've found
Chicago, IL (PRWEB) October 26, 2011
Unwilling to see more veterans added to the latest unemployment figures or become victims of the recession themselves, David Chonowski and Chris Petersen, two former US Army officers and MBA graduates of the University of Illinois at Urbana-Champaign, founded the MBA Veterans Network in 2009. That year they hosted the country's first national MBA Veterans Career Conference, a veterans hiring conference designed to connect military veterans educated by the world's top MBA programs with employers who value their leadership abilities and academic credentials. As formers US Army officers, Chonowski and Petersen knew that while military service builds leadership, an MBA from an elite institution is the most tangible proof of a veteran's ability to succeed in a business environment.
Corporate America must agree because in only the third year of operations, 24 of the world's top companies are sponsoring the event, hosting industry panels, and actively recruiting at this October's MBA Veterans Career Conference. While Johnson & Johnson and Google are Platinum Sponsors, other supporters include Accenture, Goldman Sachs, GE, Microsoft, and Chevron, among others. Jennifer Kaplan, Head of Diversity Recruiting at Credit Suisse summed up how employers feel about the event when she stated, "Here at Credit Suisse we do a lot of military recruiting and...this is the best source of military talent that we've found so far."
In addition to attending B-schools that range from MIT to UCLA, a majority of the American attendees have served tours of duty in Iraq and Afghanistan, and their professional experiences range from Special Forces team leaders to fighter pilots. Additionally, this event also has drawn interest from European and Canadian MBA programs as well as Israeli Defense Force and South Korean Army veterans enrolled in US MBA programs.
The rising popularity of this conference is as much of a testament to the MBA Veterans Network's desire to help veterans secure the careers of their dreams as much as it is a reflection of the corporate community's commitment to recruiting and hiring them. As such, aspirational military veteran executives like Alex Gorsky and Russ Laraway have volunteered to serve as Keynote Speakers and share their personal and professional insights with a new generation of business leaders. Chonowski and Petersen are extremely grateful for their early success and look forward to providing enhanced services in the future. Chonowski put it best when he said, "Putting on an event of this magnitude is no small feat, but when 66% of the students report getting at least 1 interview from this - we know we're making a positive difference in people's lives."
Live webcast available from 8am CST to 1pm CST on Friday, October 28th at http://mbaveterans.com
###