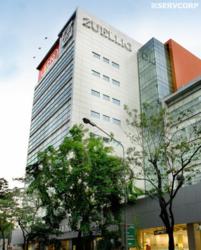 No Servcorp client that has availed of its virtual office package will ever have to fear floods, political unrest, and whatnot.
(PRWEB) October 26, 2011
An October 11 article by the Voice of America reports the United Nations claiming that the lengthy monsoon rain season have laid waste to most of Southeast Asia for four months, killing more than seven hundred people, many of them children, in Thailand, the Philippines, Laos, Vietnam, and Cambodia. The disaster specifically occurred during late July and remains a threat up until the present. According to reports from the Storyful website, over 2.3 million people have been adversely affected by the floods, while the estimated damages of up to 1.6 billion euros has been tallied. It has been described as one of the worst floods, if not the worst flood, in Thailand's history in terms of property damage and the number of people it has affected according to an October 19 report from CNN. Furthermore, according to an October 10 Bangkok Post report, the floods were so severe that they even stopped the operations of factories in the ancient capital of Ayutthaya, among many other businesses. Jerry Velasquez, a senior UN official and head the Asia-Pacific office of the United Nations International Strategy for Disaster Reduction (UNISDR) based in Bangkok, told AlertNet in an exclusive interview on October 20 that the floods show how unprepared South East Asian businesses are of such disasters. He specifically states that the business world has not yet learned from the lessons imparted by the recent Japan earthquake this March.
Enter Servcorp and its virtual office Thailand services. For companies who are having problems accessing their offices or keeping their businesses running during catastrophes like the 2011 Thailand floods, then Servcorp's virtual office services are the perfect solution to the problem because they let business owners access and run their companies anywhere around the world. Aside from featuring premium-grade office rental Bangkok services that handle rent, furniture, IT solutions, and so forth, Servcorp is also renowned for its virtual office offerings. No Servcorp client that has availed of the virtual office package will ever have to fear floods, political unrest, and whatnot. These companies will not only enjoy having Servcorp's virtual office services streamline their businesses with cutting-edge technology, a multitude of services, and all tangible and virtual office requirements brought to them in one package; this particular offering is also their means to keep on running their companies even in the face of natural disasters, civil unrest, and other related emergencies. In a nutshell, Servcorp's virtual office solutions allow clients to run their businesses anywhere without coming to the office. The reason behind this is the fact that this package has been specifically designed to answer people's everyday office problems concerning management and even micromanagement.
More to the point, Servcorp's virtual communication services and phone answering technology can help quite a lot in making a company's office accessible anywhere, such that physical phenomenon like floods, typhoons, and riots won't negatively impact any given business's everyday operations. What's more, because the virtual office Thailand is so dependable, Servcorp clients are free to concentrate on the more important tasks they have to deal with, such as delivering their quotas, finishing their work for the day, or making a profit. Even during times where companies aren't faced with worst-case scenarios and crises, the virtual office proves indispensable. Small to medium businesses no longer have to hassle themselves over forcing their workers to check in for some overtime work just to pay for the month's rent. Besides which, Servcorp virtual office clients are typically the picture of grace under fire even during emergencies thanks to the easy accessibility of the virtual office; even when there's flood, earthquake, fire, severe traffic congestion, protestors, and whatnot, their businesses can still keep on running right at the comfort of their own homes.
Medium to small businesses based in Thailand can always rely on Servcorp and its wealth of office solutions even during emergencies and natural disasters like the 2011 Thailand Floods. As reported by various news media outlets like CNN, the New York Times, the Voice of America, Storyful, the Bangkok Post, and AlertNet, many Thailand businesses were severely affected by the 2011 Thailand floods. Even Senior United Nations Official and UNISDR head Jerry Velasquez claim that there were a lot of Thai companies that came unprepared in the face of such a crisis even as it followed the heels of worldwide catastrophes that befell Japan and Haiti. With that said, Servcorp's virtual office services are can help companies during such disasters because they allow business owners to continue their company's operations anywhere around the world. This versatile virtual office company will make sure that its clients' businesses are running smoothly even in the face of catastrophes from Mother Nature, accidents, or manmade disasters. The business solutions provider's topnotch virtual office Thailand offers phone answering and communications services that allows business owners to run their offices from anywhere. It's one of the best and most accessible virtual office Thailand anyone could ever find. Besides which, even Servcorp's office rental Bangkok is quite dependable because of its affordability and placement within Bangkok (it has offices in Silom and Central World). Whichever the service, Servcorp simply delivers the goods.
###