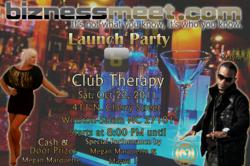 Biznessmeet Launch Party Takes Live Music, Entertainment and Networking to Another Level!
Winston Salem NC (PRWEB) October 19, 2011
On October 22nd 2011 Biznessmeet will commemorate the launch of their website with a celebration in Winston Salem, NC.
Megan Marquette and Mayne1 are the featured artists for the event which will be held at Club Therapy in downtown Winston Salem. Megan sings a style of music that brings R&B, Pop, Rock, and Jazz together and utilizes a combination of acoustic and electric instruments. Mayne1 is a multi-talented rapper and performer. In addition to his musical abilities, Mayne1 is also one of the visionaries behind Mo'rilla Entertainment & Music Group.
Biznessmeet.com is a new website that brings together businesses and individuals to share ideas, discuss important topics and assist you in selling your products and services. By joining Biznessmeet.com, businesses and individuals benefit from increased exposure. Job seekers can upload résumés and connect with potential employers and professionals from all walks of life, therefore increasing their broader business network.
Founders Rosalyn Wheless-Wilson and Mitch Brown developed Biznessmeet.com to fill a void in business social networking. "This site satisfies all walks of life and directly targets individuals as well as businesses wanting to be movers and shakers and dominate their industry, whether small or large and connect directly to their customers locally and nationally. In an effort to appeal to those that desire to network, advertise, refer, recruit, negotiate deals, barter, trade, sell or exchange with other individuals, organizations, service providers and customers, Biznessmeet.com allows you to meet others in a social and professional perspective and simultaneously encourage good business relations and abundant networking amongst all involved."
The Biznessmeet.com launch party is free and open to the public. Door opens at 8pm. For more information, please visit:
http://www.biznessmeet.com
###