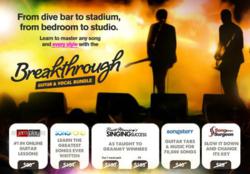 I have to agree with Simon Cowell: a lot of performers just aren't ready for the big time. We're here to help them give a breakthrough performance maybe get the coveted: 'and it's a yes from me'!
(PRWEB) October 21, 2011
Watching the tens of thousands of hopeful singers queue in the rain and scorching sun for a shot at stardom on the "X Factor" TV talent show led the creators of the Breakthrough Guitar and Vocal Bundle to believe that there was a demand, and, in a few unfortunate cases, a dire need for singing lessons and musical coaching that could be delivered en masse to aspiring performers. Inspired by what he saw, Daniel Sim Lind, an amateur singer-songwriter and Founder of Gennaker Performance, an online marketing consultancy, began the hunt for the best online lessons and tools available. The resulting bundle of products is available at an impressive 75 percent discount until Tuesday 25 October, 2011.
"I'm amazed at the quality of the coaching and lessons that we've been able to pull together for this discounted bundle offer." says Mr Sim Lind, "We've got singing coaches who have worked with numerous Grammy Winners, sheet music for 70,000 songs and thousands of HD video guitar lessons for beginners and professionals with advanced techniques for a dozen genres like Blues, Rock and Metal."
Mr Sim Lind says that in order to secure all the products and partners involved and a 75 percent discount, the Bundle is a "flash sale" – a style of time-limited online promotion that was pioneered by marketers of high-end fashion. Following the model, the Breakthrough Guitar and Vocal Bundle is only available at the http://breakthroughbundle.com website, and closes on Tuesday, 25 October 2011.
The Bundle features a four month subscription to JamPlay, home to one of the world's largest communities of guitar learners. Their 2,000 studio-quality HD videos include comprehensive introductory lessons and are taught by 43 instructors specializing in dozens of genres and techniques. "We went with JamPlay because they've got a truly amazing set of lessons and resources. For example, they have eight hours of live interactive online video lessons every day, and virtual open mic nights where you can strut your stuff." explained Mr Sim Lind.
The Bundle also includes four months access to fifty step-by-step video lessons from SongPond that teach acoustic and electric versions of songs by artists as wide-ranging and AC/DC, The Beatles, Led Zeppelin, Willie Nelson and Eric Clapton. "I think it's essential that singers are comfortable performing a wide range of styles and that they can accompany themselves on the guitar and learn how essential phrasing and dynamics are to giving a performance that emotionally connects" said Mr Sim Lind.
Songsterr Plus brings a rather unique interactive songbook to the bundle, featuring guitar tablature for 70,000 licensed songs. Guitar tabs are a kind of musical shorthand that makes it easier to learn to play a song on the guitar and when combined with Songsterr's realistic guitar playback engine musicians can instantly hear how a song should be played. The included Song Surgeon software makes it easy to change the key of a recorded song you want to sing along with and it can also adjust a recording's tempo, making it easier for guitarists to learn complicated lead breaks.
Even the most cynical 'X Factor' viewer would have to concede that singing well is a crucial part of 'going through to the next round'. To help singers, the bundle includes three months access to Singing Success TV, a collection of video vocal lessons. The lessons feature Brett Manning and his associates, who say that they are the creators of the world's best-selling vocal training program and that they have trained numerous Grammy Award winning singers and celebrities. Additional lesson series teach vocal exercises, how to develop of a signature singing style with commercial potential and how to hit high notes with confidence.
"Because this Bundle is only available for a few days at http://breakthroughbundle.com, we're all bracing ourselves to handle the influx of new students" says Mr Sim Lind. "If we can reach enough performers maybe next time Simon Cowell will be announcing 'four yeses' for everyone!" he concluded with a grin.
About Gennaker Performance Ltd
Gennaker Performance ( http://gennakerperformance.com) is an online marketing and sales performance consultancy based in Christchurch, New Zealand that specializes in flash sales and themed bundles of software products.
###