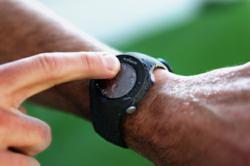 The small form factor, function and great everyday looks make this our favorite GPS watch to date
Bozeman, MT (PRWEB) October 19, 2011
The Garmin Forerunner 610 released in the summer of 2011 became the first touch screen navigation GPS watch ever made following closely behind the Garmin Edge 800 bike computer, which was the first ever touchscreen navigation fitness device - the Timex tap screen technology notwithstanding. Tap screen is a bit different and is not the typical touchscreen navigation one might expect from a smartphone.
The Garmin Forerunner 610 is much like a smart phone except the touches required are much more deliberate in nature and that is a good thing because it helps to avoid inadvertent navigation from light touches.
"I used this watch personally for nearly two months this summer and it was hands down the favorite heart rate monitor and GPS watch unit I have ever tested" says Rusty Squire, President of the Heart Rate Watch Company. Squire continues, "The amount of data and the maps that you can record and graph is just outstanding - I feel like I was a permanent bread crumb trail".
Getting down to functionality this device does real time heart rate, speed, distance, calories, elevation and more. The Garmin 610 also includes vibration alarms, a compass, 100 hot fix points and comes with the best mapping software platform available called Garmin Connect. Of course the 610 can be used with many other software programs as well including Training Peaks, so if Garmin Connect is not the choice there are other options.
Perhaps the one limitation to the device is the 7 to 8 hour battery life between charges. For the all day ultra-athlete type of person this may require they step up to the Garmin Forerunner 910XT which has a 17 hour battery life between charges.
All the various fields and alerts on the Forerunner 610 can be customized by the user and distances can be displayed as either miles or kilometers. About three measurements per screen is best for readability and this makes using the auto-scroll feature a real plus so you can periodically see all of your data.
"The small form factor, function and great everyday looks make this our favorite GPS watch to date" says Squire. He continues, "The touch screen navigation makes it much more intuitive for generations of smart phone users".
If an individual is just going to run then they might consider the Garmin Forerunner 210 or the Timex Run Trainer. If cycling is the only form of exercise then a Garmin Edge 500 might be the ticket but if running, biking and or cross-training at other outdoor sports is the focus then the Garmin Forerunner 610 is ideally suited to the task.
###