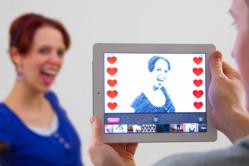 Some of these video effects are right off the charts. There's nothing like this, anywhere.
Lebanon, NH (PRWEB) October 25, 2011
Inspiration can strike anywhere. Now capture it in a music video with Video Star!
From simple "lip dubs" and "dance covers" to elaborate multi-scene music videos, Video Star makes it easy to create fantastic looking videos anywhere, anytime.
Video Star's focus is on simplicity. There's nothing to learn, and no editing required.
Simply:
1. Select a song.
2. Record video in sync as the music plays.
3. Share it with friends.
Effects provide lots of opportunities for creative fun, and Video Star features tons of real-time video effects such as Tron, Night Vision, X-Ray, Blueprint, Cartoon, Chalkboard, Light Tunnel, and Kaleidoscope. The 60+ presets are instantly accessible and can be changed while recording. More advanced users can create any number of custom effects combinations, which can be saved and reused in future Video Star projects.
Videos can be shared via email and uploaded directly to YouTube. Get the word out by posting links via Facebook, Twitter, and email ... all built into Video Star!
To celebrate the launch of Video Star, Frontier Design Group is sponsoring a giveaway running through October 30st.
Enter using Facebook or Twitter at the Video Star website for a chance to win the daily prize of a $20 iTunes Gift Certificate. Enter daily to increase chances of winning the Grand Prize, an iPad 2!
Pricing and Availability - Video Star is available worldwide through the App Store at $0.99 (introductory price).
Device Requirements - iPhone 3GS/4/4S, iPad 2, and 4th Gen iPod touch. iOS 4.2 or later.
###