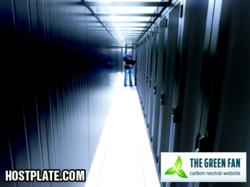 Experience quality and cheap together in Hostplate.com
Borås, Sweden (PRWEB) October 24, 2011
VPS hosting company HostPlate enters the top tier of providers with a combination of reliable performance and unqualified value. With a commitment to green technologies and expansion into markets around the world, HostPlate is setting new service standards in the hosting industry.
HostPlate.com, an experienced provider of unmanaged virtual private server (VPS) hosting, announced today that it is expanding operations and offering its premium services to clients around the world. VPS hosting is the preferred hosting option for most businesses: it blends the power and control of dedicated server hosting with the attractive pricing of shared hosting. This compromise offers the best in value and performance.
The heart of HostPlate's operations is at the exclusive EvoSwitch datacenter in Amsterdam, a hosting center that is unique in the industry for its reliance on 100% green energy. HostPlate clients enjoy the service benefits that come with hosting at one of the world's most modern facilities:

24/7 on-site and remote support
Ultra-reliable connectivity with 35+ carriers and close proximity to AMS-IX
100TB premium bandwidth on Tier 1 network
99.999% network core uptime
Leading edge performance from continuous infrastructure innovation
EvoSwitch's green technology is not just good for the environment, it is good for clients as well: energy-efficient solutions reduce costs and improve reliability, creating a win-win situation for everyone.
HostPlate has expanded its service to encompass the entire world. According to HostPlate CEO Navid, clients in the United States and Canada have quickly embraced the opportunity to have reliable, professional Windows VPS and Linux VPS hosting solutions at affordable prices. "US and Canadian businesses have previously been limited in their choices: only a handful of providers offer dedicated servers, and the pricing has been extremely aggressive," says Navid. "HostPlate is the first provider to bring them affordable prices and top-tier reliable service, including dedicated servers with 100 Terabyte bandwidth."
HostPlate is positioned to build on its reputation for providing unmatched customer service. Businesses interested in learning more about VPS hosting, and the full range of services provided by HostPlate, are encouraged to visit HostPlate.com to learn more.
About HostPlate:
Founded in 2009, HostPlate has quickly earned a reputation as a reliable provider of outstanding Linux VPS and Windows VPS solutions. The company is based in Borås, Sweden, with hardware facilities located in Amsterdam, but it has expanded far beyond Europe to provide services for businesses located across the globe.
###