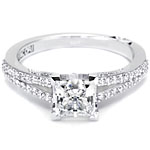 With 60% of all engagement rings sold costing less than $5,000, we wanted to come up with a way for our customers to still realize their dream of owning a Tacori ring, but at a lower price point
New York, NY (PRWEB) October 20, 2011
In an effort to keep up with increasing demand for Tacori Engagement Rings, Since1910.com is now offering Complete Tacori Engagement Rings with a center diamond starting at $3995. There is also a larger version of each Tacori ring for $4,995.
"It is now easier than ever to make your future fiance a Tacori girl... for less. With 60% of all engagement rings sold costing less than $5,000, we wanted to come up with a way for our customers to still realize their dream of owning a Tacori ring, but at a lower price point", said Brad Gross, Co-Founder and Vice President of Since1910.com.
Since1910.com realized the process of selecting a center diamond can sometimes be daunting, so to alleviate the endless search for the perfect diamond, Since1910.com graduate gemologists have pre-selected GIA certified center diamonds for each complete ring. Each center diamond is GIA certified and with a minimum cut grade of "very good".
"We couldn't be more excited about this new offering for our customers. We're listening and we hear you! We field a tremendous amount of diamond questions from our customers and this is our attempt to simplify the diamond buying process", said Eric Peerless, Vice President & Co-Founder of Since1910.com
Complete Tacori Engagement Rings will be ready in one week where the traditional Tacori process requires 4 weeks to be custom made. Since1910.com is excited about this new program and the ability to offer customers a new way to own a Tacori ring.
About Since1910.com
Since1910.com is a family owned, fifth generation couture retail jewelry business, established in downtown Brooklyn, New York in the year 1910. The original store was named H.L. Gross & Bro. Jewelers, which it still maintains 10 decades later. Now located in downtown Garden City, Long Island, there are currently 3 generations working together at Since1910.com. Michael Gross is 4th generation family member and President. Brad Gross is 5th generation family member and Vice President. Helene Gross is 3rd generation and treasurer.
Since1910.com is a platinum Tacori retailer in addition to being an authorized dealer of several bridal designers including Scott Kay, Martin Flyer, Henri Daussi, Vatche, ArtCarved, Simon G and more.
Since1910.com is also a member of the prestigious AGS (American Gem Society) and adheres to their strict guidelines of business practices and professionalism. Since 1910.com is also members of the GIA, Jewelers Vigilance Committee, The Retail Jewelers of America, The New York State Jewelers Association and the Better Business Bureau.
# # #