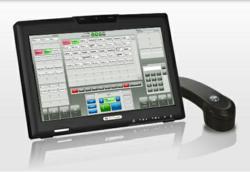 The IP Touchphone supports thousands of contacts which are accessible through rich-content buttons. The data available includes: names, phone numbers, department, function and sites...
New York, NY (PRWEB) October 25, 2011
IP Trade Networks, the global leader in native IP-based systems, today announced the availability of a new IP Touchphone providing a range of high-end IP Voice and Video consoles that address the needs of several categories of critical users in a company. The IP Touchphone range today includes the following:
The TAD – Touchscreen Assistant Device – addresses the needs of receptionists, attendants and assistants in the enterprise and public sector environments. It is the perfect tool for operators providing a broad range of leading edge communication services encompassing: IP voice, call queuing, advanced contacts management, call manipulation and an advanced boss-assistant feature set.
The SDC – Service Desk Console - addresses the needs of agents in help-desks, command centers or dispatching center environments. With its state of the art communication services such as: common view of queues, large amount of customizable contacts (for daily campaign updates), dispatch keys and voice recording, it is the daily communication tool.
Telephony integration is based on the Cisco Unified Communications Manager version 5.X, 6.X, 7.X, 8.X and Cisco Unified Communications Manager Express version 7.X, 8.X. with Cisco proprietary extensions for SIP. IP Touchphone guarantees native integration with the Unified Telephony system. The system is based on SIP (Session Initialization Protocol) and does not require any server or any CTI links to connect to the PBX. Furthermore, the console is connected through the voice VLAN and does not interfere with any data VLANs, thereby avoiding security issues. It is as simple as a standard IP phone to install, configure, use and manage.
IP Touchphone will provide all the basic capability features of a traditional IP Phone but will also have specific features as follows:

Call dispatching: The operator can make blind transfers with a single touch of the screen using our special keys and save time.
Recall: The operator has the ability, when transferring a call, to take it back if the person receiving does not answer.
Waiting time alert : The operator will be alerted by a flashing color warning when a caller has been too long in a queue.
Detailed call history: The console displays a detailed call history about missed, received and placed calls.
Text message: The operator has the ability to send text messages.
Email: The console can send email.
Announcements and intercom : IP Touchphone provides intercom facilities which can be used to broadcast announcements to other users, groups or all employees.
"The IP Touchphone supports thousands of contacts which are accessible through rich-content buttons. The data available includes: names, phone numbers, department, function and sites. Additionally, the console can integrate Active directory, any other LDAP directories or import CSV files, and it also synchronizes Outlook contacts all while providing 'Presence' status of each employee," say Bruno De Moor Product Manager IP Trade.
IP Trade continues to drive the value from the clients' investment in IP enterprise communications systems; the IP Touchphone console delivers the most reliable and secure IP Attendant Console / Service Console available today.
About IP Trade
IP Trade provides voice and unified communications solutions that address the most stringent demands of professional traders and command desks in the most complex environments. First to market with IP/SIP based Touch-Screen turrets that leverage the enterprise internet telephony infrastructure, IP Trade systems allow organizations to bring control of trading and command systems in-house resulting in reduced costs, greater flexibility and improved resilience to support the business critical community. Fully compatible with Cisco Unified Communications Manager and other VoIP systems, IP Trade products are certified to the highest level by the major unified communications manufacturers in the market. Headquartered in Liege Belgium with offices in New York, London, Singapore, Hong Kong and Luxembourg.
###