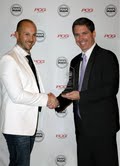 Oshkosh, WI (PRWEB) October 20, 2011
DealerFire, a custom automotive website design firm based in Oshkosh, WI is proud to announce Automotive Website Awards' recognition of DealerFire as a leader in the automotive digital marketing industry with a Top Pinnacle award in Search Marketing and Mobile Website Platform. The fourth annual AWA ceremony took place at Caesar's Palace in Las Vegas on Oct. 7.
The Automotive Website Awards recognizes leading and innovative services and products provided to automotive dealerships. The providers' websites are extensively researched by PCG Digital Marketing and must meet a certain criteria in various facets related to each category. The study included over 50 website providers this year.
DealerFire has been recognized as one of the top providers, once again. This year, it came in the form of a Top Pinnacle award in Search Marketing, the highest recognition and Mobile Website Platform, a new category. Owner and founder Eric Hoopman accepted the awards for DealerFire.
"There are so many competitors in this space, and it's such an honor to be consistently and nationally recognized with awards and industry buzz as an elite member on the very short "best of best" lists." Hoopman said.
Search Marketing ranks high on many dealerships' priority lists and both DealerFire and AWA recognize DealerFire's customization can be seen from their SEO/SEM expertise to the pages on their websites.
Today's mobile technology is moving fast, and a dealership's ability to market with mobile technology is important. DealerFire offers mobile websites, text marketing and an iPhone application for dealerships.
"Mobile technologies and marketing are a natural fit for our team. Fast paced, creative and exploratory - three challenges a small; tight knit development team operates very well with. We are very pleased with our accomplishments to date within this emerging technology and are honored to receive the AWA award for our industry leading efforts." Hoopman said.
PCG Digital Marketing publishes their study, which spans across five different categories, and serves as an industry reference guide.
"Bringing home the awards to Oshkosh, WI is especially rewarding. A community rich in innovation and history, I'm extremely proud of our team for their efforts in establishing DealerFire as a key player in the digital marketing renaissance occurring right now in Wisconsin, across the US and abroad." Hoopman said.
DealerFire Story:
DealerFire was born out of the back of a Jeep Grand Cherokee Wagoneer on an Oshkosh, WI to San Jose, Costa Rica road trip. Since those humble beginnings, the company has claimed a spot as a leading provider of custom automotive website designs, leading mobile and digital marketing solutions and hometown customer service. For more information about DealerFire, visit http://www.dealerfire.com
###