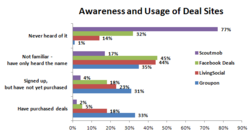 35 percent of online consumers have heard of Groupon, even though they have not signed up or purchased.
Atlanta, GA (PRWEB) October 20, 2011
Polaris Marketing Research Inc. and its data collection partner SSI announced today that in its latest study of American consumer behavior online, Groupn dominates the deal-of-the-day marketplace. While 88 percent of online Americans have heard of these deal-of-the-day websites, 33 percent of them have purchased a deal from Groupon.
"Groupon's dominance is really not surprising. As one of the first deal-of-the-day websites and with its catchy, self-explanatory name, consumers may actually start to refer to all of these websites as "Groupon". 35 percent of online consumers have heard of Groupon, even though they have not signed up or purchased," said Polaris president Jan Carlson.
LivingSocial is also a strong player in the deal-of-the-day market, with 18 percent having purchased and 23 percent signing up, but not yet purchasing deals. Facebook Deals, which Facebook recently announced it is phasing out, garnered only 5 percent of consumers having purchased and 18 percent having signed up. Surprisingly, given the 800 million Facebook members, 32 percent of deal-site-aware consumers said they had never heard of Facebook Deals. Scoutmob also suffers from low participation and awareness, with only 2 percent purchasing and 4 percent having signed up, but not yet having made a deal purchase, and fully 77 percent never having heard of them.
Polaris and SSI conducted online surveys with a representative sample of 1,000 American consumers during the week of September 12, 2011.
Founded by Jan Carlson, Polaris Marketing Research is a full-service firm that provides state-of-the-art online interactive marketing research reporting, interviewing and data collection, quantitative and qualitative research expertise and personalized project management.
Atlanta-based Polaris Marketing Research is affiliated with the Council of American Survey Research Organizations, the American Marketing Association and the Marketing Research Association.
Bringing together Survey Sampling International and Opinionology, SSI is the premier global provider of world-leading sampling, data collection and data analytic solutions for survey research. SSI reaches respondents in 72 countries via Internet, telephone, mobile/wireless and mixed access offerings. Value-add services include questionnaire design consultation, programming and hosting, data processing and real-time reporting. SSI serves more than 2,000 clients, including the top 50 research organizations. It has 30 offices serving clients around the world.
###