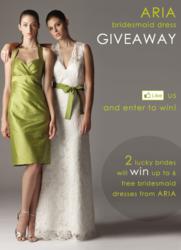 I know it can be difficult to ask your bridesmaids to spend money on their dresses, I'd like to try to help. Tak Hau
Los Angeles, CA (PRWEB) October 24, 2011
"Like" Aria's facebook page and win a chance to win up to 6 silk shantung bridesmaid dresses.
Aria is a Los Angeles based design and manufacturing company where you can order beautifully crafted and affordable silk bridesmaid dresses, wedding dresses, flower-girl dresses and maternity bridesmaid dresses all designed with pride and integrity. All made in the USA. Aria also offer coordinating groom and groomsmen accessories such as neckties and cummerbunds. Their designer, Tak Hau, has been dressing women for their special occasions for over 20 years, and has the experience and sense of style to make your wedding a special one.
As the designer of ten-year-old Aria, president/creative director Tak Hau virtually breathes sophistication into a category that was crying out for modern, sleek designs: the bridesmaid dress.
Luckily for bridesmaids everywhere, Tak has been designing cocktail dresses since the late 80s under his own name and other labels. His designs sold to leading retailers like Barney's, Nordstrom and Caché, just to name a few.
Based on the concept of customization, Aria presents the most current trends in fashion for the bridesmaids. With a dizzying array of interchangeable necklines and skirts to flatter all body types, and a range of 70 colors in silk fabrics, as well as cottons, dresses for bridesmaids suddenly look hip. The collection starts at $160, for sizes ranging from 00 Petite to 26 Tall.
In addition to a well-developed website, http://www.ariadress.com, with sales to brides and bridesmaids all over the world, brides and bridesmaids who are not able to visit their corporate showroom in Los Angeles, Aria offers a "try-on program", in which brides and bridesmaids are able to easily request that their favorite design(s) be sent to their home for consideration up close. Please see here for more details.
Aria is listed in the Green Bride Guide. All Aria's dresses are made in the USA.
###