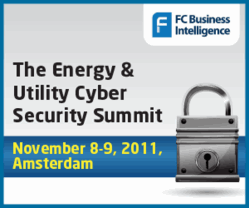 (PRWEB) October 20, 2011
25+ Attendees from major European utilities have already signed up to attend this year's conference, hosted by Cyber Security for FC Business Intelliegence, to discuss current regulatory, policy and technical challenges surrounding cyber security and modernization of European smart grid and critical infrastructure. With experts from CPNI.NL, ENISA, EuroSCSIE and CERT also involved with the meeting and showing their support the meeting promises to be an unmissable conference for all senior level executives involved in energy and utility cyber security projects.
Wout De Natris (De Natris Consulting) spoke to the conference organisers about the importance of industry partnerships in this sector "Leading the way has to be raising awareness at all levels within an organisation of the choices faced and potential liabilities of using the Internet… Only when the whole organisation understands the consequences of flawed security, will the IT sector have the resources to really handle the situation."
The Royal United Services Institute (RUSI), The Cyber Security In Real Time Systems (CSIRS) organization and Red Dragon rising have all confirmed that they will run a specialist workshop at the meeting looking at the real threats being faced on an international level and the policies and technologies being implemented to overcome these challenges.
David Spinks (CSIRS) said of the event and industry "I have been impressed with the level of understanding and research undertaken by the organizers, the quality of speakers will surely make this an event no one will want to miss. The stress and pressure on the Power and Utilities industry both to implement Smart Grid Technologies but to also respond to Cyber Security threats and to demands by the regulators have never been stronger. The CSIRS group is proud to be associated with this event."
The European event continues on from the success of the inaugural Cyber Security ad Energy Delivery Conference in San Jose. Aldo Nevarez (KEMA) said "The inaugural conference was a success bringing industry regulators, companies and vendors together for lively discussion and experience sharing." Barry Jones (SDG & E) added "This was an excellent opportunity to meet with professionals working on strategic solutions and ideas for cybersecurity and CIP compliance programs." And "The information provided at this conference is valuable to anyone interested in keeping the lights on." Terry Jarrett (Missouri Public Service Commission).
For more information on the Energy & Utility Cyber Security Summit which is taking place in English Language in Amsterdam, Netherlands on the 8th – 9th November visit http://www.cybersummits.com/eu/
###