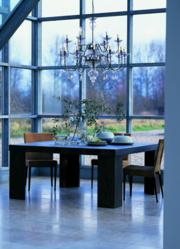 (PRWEB) October 21, 2011
Pummer® AKA Natural by Design continuously is searching to enhance the existing portfolio of contemporary and 'in-style' furniture and accessories from around the world.
Pummer® is dedicated to identify the perfect match of natural, hand made products combined with the utmost health consciousness set in mind. Pummer® is proud to continue to be the exclusive importer of Lambert.
Lambert fall/winter collection 2011
"New modern country" – personal natural habitat and urban life are the two areas lived by modern man. This social trend has inspired the furnishing experts at Lambert to combine simplicity and nature into living space with elements of industrial design and classic elegant details. These highly contrastive elements can be found in the current fall/winter collection 2011.
VESUVIO
This little collection was made with lots of attention to detail and immense handcrafting care.
The two small candle holders make ideal presents for friends and family.
The cup of finest porcelain will turn heads with its clear, simple form and the contrasting colours of black and gold.
The tea light holder in the shape of a lotus flower was created in a painstaking handcrafting process. Each individual petal is formed separately and then joined together to make a complete flower. In many parts of Asia, the lotus blossom is the symbol of purity, loyalty, creativity and illumination.
The lids of the fine wooden boxes are each adorned with a golden porcelain flower in the shape of a carnation. They make ideal receptacles for keeping jewellery, tiny treasures or the secrets of life.
Vesuvio is painted but not glazed, and should therefore only be cleaned with a damp cloth and never placed in dishwater. The delicate porcelain flower petals are very sensitive and should be handled with loving care.
NURAY
This scented candle in its metallic covered pot will set clever accents in any room. The hand-hammered structures on the pot and lid are nickel plated in a second work step to give them their special brilliance. Once the candle is lit, Nuray emanates an elegant and light scent, which is then trapped inside by replacing the cover after the candle is snuffed out. These scented candles come in two scents: "Rose" and "Day Spa".
Nickel-plated articles should not be exposed to moisture for any length of time as they will otherwise become spotted and matte.
JAMAL
Nice and simple…. that's Jamal, the brilliant pair of nickel-plated candle holders. They can serve as practical drip catchers for your Lambert candles, as a decorative saucer set for holding small things, for display or as small dishes.
Nickel-plated articles should not be exposed to moisture or rough weather for any length of time as they will otherwise become spotted and matte.
GASTON TRAY
Unusual and at the same time practical occasional table are a pillar of the Lambert collection. With Gaston the line has gained a completely new, elegant addition. The design for Gaston was modelled after a classic from the Art Deco era. A spacious round tray in nickel-plated finish swings atop the curved legs of the lower frame.
CORNO
The new salad servers made of polished stainless steel with handles of horn are unique pieces that will lend Far Eastern flair to every table.
As horn is a natural material, no serving spoon is exactly the same shape as the others. Corno should not be immersed in dishwater, as horn can absorb water and will develop hairline cracks. If the surface of the horn should develop matte spots, it can easily be polished up again with normal vegetable or olive oil.
LEGERO
Filled with fruit or just on their own, these wire objets d'art with their extravagant forms provide eye-catching highlights anywhere in your living spaces. The wires are spot-welded into net-like containers and either nickel-plated or finished with a antique patina. Please do not expose wire or nickel-plated articles to moisture, to protect them against corrosion.
NADIRA
Made of fine sheet metal, these oval shapes are hand hammered with care. As a finishing touch the oval metal form is then coated in matte black, leaving a fine texture on the surface. The gold paint on the inside of the body creates the special light effects from the inside. When a tea candle is lit, a golden sheen peeks through the tiny holes and offers a captivating dancing light. Nadira is primarily meant for use as interior decoration. Please do not expose these articles to moisture or rough weather, to protect them from corrosion.
VIDO
Even back in the Ancient Orient and Egypt, soapstone was used for making sculptures, vases and household vessels. The seal of the ancient pharaohs was also made of soapstone. As this material is wonderful to work with yet robust and durable, to this day in Northern Africa huge cooking pots are still made of soapstone. The thick-walled bowls of the Vido series are fashioned in the same way as thousands of year ago: each individual piece is hand-hewn from a rough slab of stone and then shaped and polished by hand. After these initial work steps are complete, the vessel is then lined with a shiny shape of sheet metal. The final structure is impossible to precisely predict and is therefore a sign of true handcrafting skill.
Highly polished metal objects should not be exposed to moisture and acidity, as they will otherwise become spotted and unsightly
MARINA
In response to popular demand, Lambert has developed a smaller version of the attractive hanging lamp. Marina is inspired by the impressive lamps traditionally found hanging over the map table in the captain's cabin of a tall ship. The hanging lamp lends elegant nostalgic charm to a dining table; especially in a row of up to three of the smaller version. The lampshade is hand hammered with a fine embossed pattern. The mounting and suspension parts in the smaller version are black matte and create an eye-catching contrast to the shiny nickel-plated lampshade.
Nickel-plated articles should not be exposed to moisture for any length of time, as they will otherwise become spotted and matte. Therefore, polish the lampshade with only dry, soft cloths, preferably made of micro fibres, and use no aggressive cleansers.
LOBBY
A small club chair with an elegant combination of wood and cane. It's simple, compact shape is reminiscent of the 1920s. A double wall of pliable rattan core is woven into the wooden frame and finished with an ornamental border. The wickerwork is lacquered. With its conical wood feet Lobby feels at home in the drawing room or reception rooms and, of course, at the fireplace.
ATON
In the ancient Egypt culture, Aton was the name of the sun god. To this day, numerous antique works of art tell tales of the universal meaning of the sun for the ancient Egyptians. The new Lambert mirrors were inspired by such antique depictions of the orb of the sun. The mirrors are polished with bevelled edges; the wooden core of the frame is finished with metal applications in bronze-gold or silver: classic and timeless colours that will set the right accent on any wall.
Please clean the frames only with soft cloths and use no aggressive cleansers
NEUILLY
These plaids in fine new wool are bordered by hand in a thick contrasting yarn. This artisan finish lends them an unmistakeable character. We recommend dry cleaning to ensure you enjoy these beautiful plaids for a long time.
###