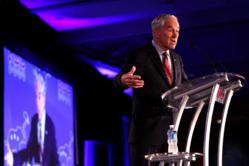 Ron Paul continues to speak truths that have never been heard during a presidential campaign season.
NORTHBROOK, IL (PRWEB) October 19, 2011
Reaction on site and at home to last night's CNN Western Republican Presidential Debate indicates that Congressman Ron Paul continues to build support in his bid for the GOP nomination, observes Revolution PAC. Moderator Anderson Cooper's AC360 online poll confirms the trend, showing Rep. Paul as the runaway winner of the debate, with more than 90 percent of the vote as of this morning.
Revolution PAC's acclaimed ad "Plastic Men" ran three times on CNN preceding the debate. Featured by USA Today and The Wall Street Journal when it launched in mid-September, the video sharply differentiates limited government champion and fiscal hawk Paul from his establishment-driven GOP rivals.
The Las Vegas debate turned heated on a number of occasions, drawing audible gasps from the audience, as various candidates vied for airtime in a desperate attempt to defend liberal positions. Rep. Paul, by contrast, drew applause for his proven support in Congress for states' rights, honest tax cuts, health freedom, individual rights, a sensible defense policy, and his opposition to the TARP bankers' bailout and the Federal Reserve's debt-based monetary system.
"Ron Paul continues to speak truths that have never been heard during a presidential campaign season," explains Revolution PAC Advisory Board Chair Tom Woods. "And, instead of telling Americans what focus groups say they want to hear, he continues to educate them about what causes the boom-bust cycle in the economy, what the Federal Reserve does and what the Constitution really says."
Woods adds, "It was great to see his response to Herman Cain's plea that he had supported the original idea of TARP but had no idea how government would wind up using it. Dr. Paul said, in effect, 'How naive can you be? You support shoveling hundreds of billions to the banks, and you're shocked when the program takes on a life of its own?.'"
The Western Republican debate comes on the heels of the release of two new Ron Paul 2012 ads, including "Consistent," as well as the issuance of Paul's bold "Plan to Restore America." The comprehensive proposal eliminates $1 trillion from the federal budget by cutting several wasteful departments. Under Rep. Paul's plan, the president's $400,000 salary would see a 90 percent reduction, bringing it in line with that of the median American worker.
A recent Harris Poll showed Ron Paul prevailing over Barack Obama 51 percent to 49 percent in a general election race.
Revolution PAC is bolstering Ron Paul's consistent, constitutional message with targeted TV advertising campaigns complemented by billboards and radio ads in key primary states. Unlimited donations by individuals, businesses and organizations are being accepted by Revolution PAC to support that effort.
###