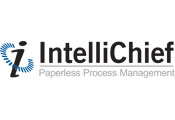 We are excited to present to users how the Infor IntelliChief solution can bring innovation to departments such as Accounts Payable and Accounts Receivable, where employees struggle with manual processes and a lack of visibility
Mansfield, MA (PRWEB) October 20, 2011
IntelliChief LLC, the leading provider of document management and document imaging solutions for the IBM I (System i, iSeries, AS/400), embraces their strong partnership with Infor as their official document management solution provider to Infor XA users by presenting at the 2011 Manufuacturing Conference for XA Users.
The 19th annual conference presented by MK & Associates and Guide Technology will be held in Grand Rapids, Michigan from October 26-27. IntelliChief is Infor's document management solution of choice for Infor ERP XA.
Infor and IntelliChief have worked very closely to ensure the tightest and smoothest integration possible. "We are excited to present to users how the Infor IntelliChief solution can bring innovation to departments such as Accounts Payable and Accounts Receivable, where employees struggle with manual processes and a lack of visibility" said Michael Jasper, Partner Development Manager for IntelliChief.
Infor users who attend will learn how Infor Document Management can eliminate paper from business processes and increase operational efficiency in areas such as purchasing, receiving, payables, human resources, customer service, and more.
IntelliChief will present Infor IntelliChief™ Document Management and welcome attendees to join these presentations.
###