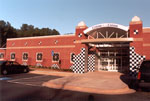 Crème de la Crème pre schools takes every step to ensure excellence as young children begin their journey through education.
Alpharetta, Georgia (PRWEB) October 20, 2011
Crème de la Crème Preschool In Alpharetta on Nesbit Ferry road offers their students more than just great teachers and curriculums. Crème students now use Hatch® Early Childhood's TeachSmart® Learning System; an interactive Learning System that lives within a SMART® Board.
The SMART Board technology used by Crème gives students the ability to think visually, digitally moving images on a large white-board secured to the wall of classrooms, as they discover how to think in today's new world of technology.
This has been proven to positively impact teaching and learning by raising the level of teacher-child engagement, motivation, and enthusiasm for learning.
"We chose to partner with Hatch Early Childhood, the industry leader in early childhood technology, because their learning systems and technology are guided by the latest research and findings. Hatch Early Childhood believes in the creation and ongoing support of products that increase success in preparing young children for school. Crème de la Crème shares that belief and takes every step to ensure excellence as young children begin their journey through education," said Jody Martin, Vice President of Education and Training.
Research tells us that preschool-aged children, who use computers with activities that support key learning goals, show more gains than others. Those gains include (but are not limited to) an increase in knowledge, long-term memory, verbal skills, problem solving and fine motor skills.
When looking for the best preschools, the best childcare, or the best daycare, families are placing more weight on those schools which utilize the newest computer technology to give children a head start.
Our current families from Alpharetta, John's Creek, Roswell, Norcross and surrounding areas are taking full advantage of The TeachSmart® Learning System as it ensures excellence and success as it engages all types of learners; visual, auditory and/or kinesthetic. There are hundreds of learning activities for children to work with and they can also create and share their own activities with classroom peers and teachers. Teachers then have the capability to share these individual masterpieces with parents; enabling both teachers and parents to watch the children grow and learn throughout the school year.
Please feel free to stop by Crème de la Crème preschool at 8730 Nesbit Ferry Road Alpharetta, 30022 and let the children and staff introduce you to this innovative and unique technology…The TeachSmart® Learning System or call 800 374 5715 to set up a tour today!
Other Crème de la Crème preschools can be found in Greenwood Village CO, Buckhead Atlanta GA, Nesbit Ferry Alpharetta GA, Marietta East Cobb GA, Haynes Bridge Alpharetta GA, Peachtree Corners Norcross GA, Sugarloaf Duluth GA, Warrenville IL, Westmont IL, Glenview IL, Romeoville IL, South Barrington IL, Lincoln Park Chicago IL, Leawood KS, Mt. Laurel NJ, Bridgewater NJ, Mason OH, Allen TX, Colleyville TX, Coppell TX, Frisco TX, Plano TX, Sterling VA and Woodbridge VA
###