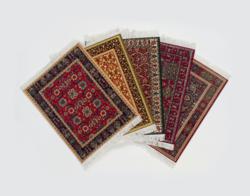 Fort Collins, Colo. (PRWEB) October 24, 2011
MouseRug®, the best-selling mousepad of all time, with more than five million sold to-date, today announced the availability of five new MouseRug and CoasterRug designs inspired by rugs in the completely renovated, expanded, and reinstalled suite of fifteen Islamic art galleries at the Metropolitan Museum of Art which will re-open to the public on November 1.
Since MouseRugs were first introduced in 1999, they have re-ignited computer users' passion for the mousepad, driving brisk sales from Des Moines to Dubai. In fact, more than half of the five million MouseRugs sold have been purchased by consumers in the Islamic world – in Egypt, Jordan and throughout the Middle East.
The five new designs in the Mouserug Met Collection expand the immensely popular MouseRug and CoasterRug product line to more than 50 unique, full-color, richly-detailed design offerings. The Met Collection of MouseRugs and CoasterRugs includes the Rosette Palmette, the Turkish Star Ushak, Pashmina Flowers, the Mughal Lotus and the Shah Jahan.
Each MouseRug measures approximately seven inches by 10 inches, with a soft, flocked surface and fringed ends, just like a traditional rug. CoasterRugs, sold in packs of four, are miniature 3.5-inch-by-5.5-inch versions of the MouseRug designs with an absorbent surface and a slip-resistant backing perfect for protecting furniture surfaces.
"Like the original works of art on which they are based, each MouseRug is painstakingly designed by hand – it takes more than 40 hours to draw each one," said Brown Abrams, president of FiberLok, Inc., manufacturer of MouseRug. "The designs are then color-matched with the originals and reviewed by Met curators to ensure the accuracy of the design. Only then does the design receive approval for sale at the Met Store and in hundreds of locations and websites worldwide."
MouseRugs are available online at http://www.mouserug.com or at computer retailers, better gift, luggage and specialty retailers nationwide with a suggested retail price of $19.95. BookRugs® and MouseRug/CoasterRug sets are also available at these locations.
About the MouseRug®
What started as a novel way to fill a gap in production capacity at FiberLok's Fort Collins, Colo., manufacturing facility more than ten years ago has grown into a business selling more than five million MouseRugs worldwide. Lextra® Flock Graphics designs are produced using a proprietary process: Tiny flock fibers are propelled with high-voltage electricity and screened into intricate color-separated patterns, and converted into exclusive MouseRugs, CoasterRugs and BookRugs which are collectible 'functional art' pieces for home or office.
About FiberLok Inc.
FiberLok Inc. is the global leader in flocked heat transfer graphics technologies and the exclusive custom printer and resource for authentic American-made Lextra® brand patented flocked graphics for many industries including apparel, automotive, injection molding, promotional products and more.
###