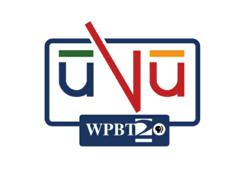 Miami, FL (PRWEB) October 25, 2011
WPBT2, South Florida Public Media, has furthered its involvement in the community by showcasing arts and culture happenings through its online platform, uVu (http://www.uvuvideo.org).
Museum openings, theatrical premieres, local artist features and art exhibits are all included in the uVu collection, which covers the community from the Palm Beach to Key West. From the Mark Morris Dance Group to the award winning Dillard Center for the Arts Jazz Ensemble to the Out of This World exhibit at the Norton Museum in West Palm Beach, the segments highlight the full spectrum of the arts. uVu even had a featured exhibit on the PBS Arts website.
Arts education is also a pillar of the website. Working with the major performing arts centers in the region, uVu has become an important component in the educational outreach of these institutions. uVu has been on hand to develop content to extend the reach of these educational efforts including High School jazz students attending a master class during the Adrienne Arsht Center for the Performing Arts' Jazz Roots series and producing the online component of the local Cappie Awards (Critics and Awards Program for High School theatre students) at the Broward Center for the Performing Arts.
uVu encourages all local arts organizations and community groups to participate in adding content, the open platform allows for user generated content but interested organizations can also talk directly with the uVu team.
uVu is a service of WPBT2 and extends the commitment of Public Broadcasting into the community with Interactive Media.
About uVu
Launched in 2007, uVu is a community based video website and companion digital broadcast powered by WPBT2, Public Broadcasting in South Florida. The purpose of uVu is to bring educational and cultural information to the local community through partnerships with community organizations and to give citizens an open forum to create their own points of "Vu." The site was developed with funding from the Knight Foundation and continues to work with the foundation through their Arts Challenge to promote and grow the Arts in South Florida
About WPBT2
South Florida's premier public broadcaster, WPBT2, is a community-licensed, not-for-profit media enterprise serving communities from the Treasure Coast to the Florida Keys. WPBT2 provides high quality content from PBS, independent acquisitions and its own original productions. WPBT2's digital media platform, offers: 2HD, a 24-hour high definition channel; Digital 2.2, a mix of Science & Nature Channel, The Florida Channel and Create; Digital 2.3, V-me, a 24-hour national Spanish-language network; and http://www.wpbt2.org, the WPBT2 website including, Impromp2 (a community blog), the WPBT2 Video Player and uVu, a video sharing website.
###