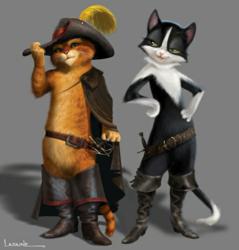 "Puss in Boots' is a fun and endearing film with imagery that will make the perfect holiday gift for animation fans, movie collectors and cat lovers alike!"
KC Sanders, owner of Sanders Art Studio and official publisher of DreamWorks Animation Fine Art
Ogden, Utah (PRWEB) October 21, 2011
"Puss in Boots," the all-new and highly anticipated feature film from DreamWorks Animation SKG, Inc. (Nasdaq: DWA) is the subject of an impressive new art portfolio now available to collectors, movie fans and cat lovers alike from DreamWorks Animation Fine Art http://bit.ly/o1aW7P. The film opens nationwide on October 28 in Real D 3D and IMAX 3D.
Directed by Chris Miller ("Shrek the Third"), produced by Joe Aguilar and Latifa Ouaou, executive produced by Andrew Adamson and Guillermo del Toro and starring the voices of Antonio Banderas, Salma Hayek, Zach Galifinaikis, Billy Bob Thornton and Amy Sedaris. The film is an origin story of Puss in Boots on his adventures before his first appearance in "Shrek 2" in 2004.
Sanders Art Studio, the sole authorized global publisher of DreamWorks Animation Fine Art (dreamworksanimationfineart.com) has produced one of its largest portfolios of hand-numbered, limited edition fine art from a DreamWorks Animation film. Virtually every aspect of the creative process of producing the film is represented - from inspirational concepts, lush backgrounds, model sheets and moments directly from the film – all printed on acid free, museum quality, watercolor paper. There are 71 pieces in the "Puss in Boots" art portfolio ranging in suggested retail prices from $175 - $16.
A highlight of the new portfolio is a series of five pencil sketches depicting the characters of Puss in Boots and Kitty Softpaws. The giclée imagery has been printed on watercolor paper in a hand numbered, limited edition of only 25 and features a framed SRP of $175.
Additional imagery in the portfolio includes beguiling character model sheets featuring Puss in Boots, Kitty Softpaws and Puss in Boots as a baby. Each one is hand-numbered to an edition size of merely 25 pieces worldwide and comes with certificate of authenticity and a suggested retail price of $175.
The portfolio also includes two colorful laser cels with showcasing mattes. Laser cels are a lithograph technology where the image is printed on industrial grade Mylar that will not fade, chip, crack or deteriorate but will retain the same bright colors as original hand-painted animation cels. "Puss in Boots in Town" and "Puss in Boots Moon" have been published in an open edition and feature a SRP of $16.
"Our new portfolio of artwork perfectly captures the visual humor, charm and beauty of 'Puss in Boots," said KC Sanders, owner of Sanders Art Studio. "It's a fun and endearing film with imagery that will make the perfect holiday gift for animation fans, movie collectors and cat lovers alike!"
All of the new art from Puss in Boots comes with a certificate of authenticity and is available from Sanders Art Studio: http://www.dreamworksanimationfineart.com. DreamWorks Animation Fine Art produces hand-crafted, limited-edition artwork from unforgettable DreamWorks Animation films, including unique, artistic interpretations of the "Shrek" movies, the "Kung Fu Panda" films, "Madagascar," "How to Train Your Dragon," "Monsters vs. Aliens" and "Bee Movie."
# # #