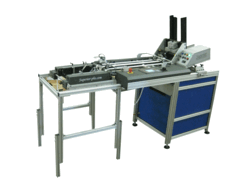 Superior-PHS is continually adding innovation to their growing product line,
PLYMOUTH, Minnesota (PRWEB) October 23, 2011
Superior Paper Handling Solutions peaked interest with the release of their newest high-speed system – the XpressStar – at this year's Graph Expo in Chicago. The latest turnkey system is ideal for high-speed top and bottom labeling, barcode/UPC scanning, printing, and verification/inspection with batch-counting capabilities.
The XpressStar features an Xtreme XM-81 "Ultra" High-Speed IJ friction feeder with 3 foot vacuum transport conveyor on a mobile enclosure. The XM-81 is known for its robust design and high-speed performance at 1,000 ft/min. Utilizing the XM-81 verses a standard shuttle feeder means standard product types can now include open edge, tri-fold, and z-fold. A photo-eye, camera, or labeler can be mounted to the friction feeder while the vacuum transport conveyor provides a secure hold of the product during transit.
The XpressStar can accommodate continuous or batch-count feeding with standard product sizes ranging from 3"W x 3"L to 12"W x 12"L. It can be used offline with existing shingling, stacking, and collection conveyors, or in-line with a batch dropper into any finishing system such as wrappers, banders, and strappers.
Superior-PHS is continually adding innovation to their growing product line by focusing on providing economical customer solutions in print, mail, and packaging automation. Superior-PHS has produced a wide array of modular product lines including Xtreme series feeders, batch-counting systems, conveying and collating equipment, transfer and wrapping systems, bundle stackers, and custom automated systems. To find out more, visit http://www.superior-phs.com.
###