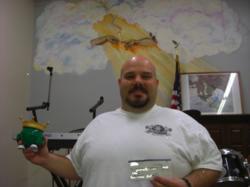 The Peas Project Supports charitable organizations such as the Old Savannah City Mission
Savannah, Georgia (PRWEB) October 20, 2011
He was not exactly what you would call a teacher's pet and after many years in gangs and running the streets, Glenn Paddock found the Old Savannah City Mission and began a new life. The OSCM, offers programs that assisted Glenn and today he is a college graduate and will be assuming a leading role in Rescue Atlanta.
From the moment we first met Glenn, we knew that he was the type of person we wanted The Peas Project to collaborate with and the Old Savannah City Mission was the perfect organization for us to establish as a beneficiary of sales from our Whirled Peas Game.
Throughout the development of the game and establishing the company Peas-Corp, the founders have never veered from the main reason for taking on such an extensive project - to build a foundation in support of charitable organizations such as the OSCM and people like Glenn. "There are so many excellent small charitable organizations across North America that serve marginalized populations and they rely on private funds to remain true to their mission and serve the needs within their respective communities" says Kevin Werntz, The producer of Whirled Peas Game. " We planned from the beginning of forming our company to create a giving-based business model in support of these local heroes and organizations and provide a national resource associated with a National brand."
While the company is still in its early stages, sales and awareness of their party game, Whirled Peas have begun to grow. Since being placed in national retailers such as Barnes & Noble and Target.com. the company is seeing increased awareness and is gearing up for the Holiday gift season.
"While we of course would like to see sales grow during the Christmas holidays," Kevin allows, "We hope our fans and fans of board games will take a look at what our company stands for and when they play Whirled Peas, remember the mission."
Whirled Peas is available across the USA at Barnes & Noble Booksellers and online at Target.com and Amazon.com.
###