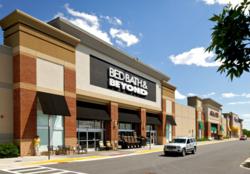 We are pleased to add this property to our expanding portfolio of high-quality, multi-tenant retail assets.
Phoenix, AZ (PRWEB) October 19, 2011
Cole Real Estate Investments (Cole), one of the nation's leading investors in high-quality, income-producing retail, office and industrial real estate, announced it has acquired Winchester Station, a power center in Winchester, VA, for $26.8 million. The announcement was made by Thomas W. Roberts, executive vice president and head of real estate investments at Cole.
Constructed in 2005, the 167,000-square-foot retail center is 97.5% leased to a creditworthy mix of national, regional and local tenants, including hhgregg, Ross Dress for Less, Bed Bath & Beyond, Michaels, Old Navy, Olive Garden and Red Lobster. The property is located along Pleasant Valley Road, the main retail corridor in Winchester, which serves as a retail hub for northwestern Virginia and southeastern West Virginia.
"The nationally recognized, creditworthy tenant roster, long-term lease commitments and solid underlying value of the real estate meet our conservative acquisition criteria," said Scott Holmes, vice president, multi-tenant retail acquisitions at Cole. "This area has strong demographics and is the primary retail destination for the region. We are pleased to add this property to our expanding portfolio of high-quality, multi-tenant retail assets."
Cole has acquired approximately $2 billion in real estate assets year-to-date, including more than $440 million of anchored retail centers, and is targeting $3 billion in real estate acquisitions for the year.
Thomas Falatko, vice president, multi-tenant acquisitions, represented Cole. R. William Kent and Gary S. Lawrence of the CBRE Washington, D.C. office represented the seller.
For leasing opportunities at Cole's multi-tenant retail properties, contact Brett Sheets, senior vice president of leasing, at bsheets[at]colecapital[dot]com.
About Cole Real Estate Investments
Founded in 1979, Cole Real Estate Investments is one of the most active acquirers of core real estate assets, managing one of the country's largest portfolios of retail properties. Cole primarily targets net-leased single-tenant and multi-tenant retail properties under long-term leases with high credit quality tenants, as well as single-tenant office and industrial properties. Cole executes a conservative investment and financing strategy designed to provide investors with the opportunity for stable current income and capital appreciation. Today, Cole-related entities own and manage more than 1,500 properties representing approximately 55 million square feet of commercial real estate in 47 states with a combined acquisition cost of more than $9 billion.
Follow Cole on Twitter @ColeRealEstate and @ColeCapital.
Forward-Looking Statements
Certain statements in this press release may be considered forward-looking statements that reflect the current views of Cole Real Estate Investments and Cole's management with respect to future events. Forward-looking statements about Cole's plans, strategies and prospects are based on current information, estimates and projections; they are subject to risks and uncertainties, as well as known and unknown risks, which could cause actual results to differ materially from those projected or anticipated. Forward-looking statements are not intended to be a guarantee of any event, action, result, outcome or performance in future periods. Cole does not intend or assume any obligation to update any forward-looking statements, and the reader is cautioned not to place undue reliance on them.
# # #