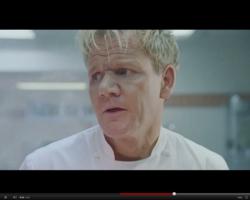 It was a fun project to be involved in plus I think it doesn't do any harm to poke fun at your own public persona from time to time.
(PRWEB UK) 24 October 2011
TOP TV chef Gordon Ramsay has become the first celebrity to lend his face to a 'Should've Gone to Specsavers' TV commercial.
In the 20 second advert, on screens for four weeks from yesterday Sunday 16 October, a man sits down, strips off and relaxes in what he thinks is a hotel sauna. As the steam clears, it becomes apparent that he has instead sat down in the middle of a busy kitchen, while Ramsay and his team look on in shock.
Gordon Ramsay says: 'I read the script and concept which was funny and appealed to my sense humour. It was a fun project to be involved in plus I think it doesn't do any harm to poke fun at your own public persona from time to time.'
'Filming was hilarious, although I must admit that I had the easy job! I really felt for Nick having to play the chap at the centre of it all, it's easy enough to injure yourself in a kitchen fully clothed, never mind stark naked! Luckily he made it through the filming without a hitch.'
The advert was created by Specsavers' in-house creative team to support the optical retailers' latest free varifocal lenses offer. When customers buy any single pair of glasses from their £69 range or above, Specsavers will fit standard PENTAX varifocal lenses for free.
Filmed in the catering kitchens of Alexandra Palace, the advert follows the tradition of humorous TV campaigns for the brand that riff on the situations that arise when someone is not wearing their glasses. It was directed by Danny Kleinman whose portfolio includes work for Smirnoff, Guinness, Levis and Audi, as well as pop videos for Madonna, Fleetwood Mac and Sheryl Crow.
Richard Holmes, marketing director of Specsavers Opticians, says: 'We were thrilled that Gordon agreed to be involved in our latest take on "Should've gone…". The ad is yet another example of the ingenuity of our talented in-house creative team and the gifted professionals they work with.'
Issued by Beattie Communications on behalf of Specsavers.
For further press information, please contact Specsavers National press office, 0207 053 6000 or nationalspecsavers(at)beattiegroup(dot)com
Specsavers notes to editors

Specsavers was founded by Doug and Dame Mary Perkins in 1984 and is now the largest privately owned opticians in the world
The couple still run the company, along with their three children. Their son John is joint managing director
Specsavers has almost 1,600 stores throughout the UK, Ireland, the Netherlands, Sweden, Norway, Finland, Denmark, Spain, Australia and New Zealand.
Annual turnover for the Specsavers Group was £1.36 billion for 2009/10 and is forecast to reach £1.55 billion in 2010/11.
Specsavers optical stores and hearing centres are owned and run by joint venture or franchise partners. Together, they offer both optical and hearing services under one roof.
Specsavers employs more than 26,000 staff
Specsavers was voted Britain's most trusted brand of opticians for the tenth year running by the Reader's Digest Trusted Brands survey 2010
More than one in three people who wear glasses in the UK buy them from Specsavers * – 9,700,000 glasses were exported from the warehouse to stores in 2009
Specsavers was ranked No 1 for both eye tests and glasses in the UK *
Specsavers is the largest retail provider of home delivery contact lenses in Europe and one of the top two retail suppliers of continuous wear lenses in the world
Specsavers is now the largest retail dispenser of digital hearing aids in the UK and offers a hearing service from more than 400 locations
Specsavers supports numerous optical and hearing charities, including Guide Dogs and Hearing Dogs for Deaf People. During its three-year support for Diabetes UK it raised more than £250,000 to fund various projects
Since 2003 more than a quarter of a million glasses have been collected and recycled by Specsavers stores for Vision Aid Overseas, for use in developing countries. Specsavers has raised over £370,000 for the charity since 2006, with almost £245,000 going towards its work in Zambia.
*GfK NOP
###