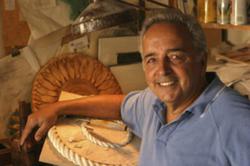 It's an honor for me to say my products are made in America
Miami FL (PRWEB) October 21, 2011
Since 1991, Piazza Pisano has been proud to say "Made in the USA." The company designs, hand-crafts, and sells all of its unique home and garden décor right here in the USA, in the company's home state of Florida.
Al Pisano, the artist and co-founder of Piazza Pisano, wouldn't have it any other way. "I am so proud of my heritage as an American, and I believe my love for this country comes through in every piece of artwork I design. Our company has been 'made in America' for 20 years, and there's no doubt we're here to stay. It's an honor."
Piazza Pisano is clearly in the minority, as many other U.S.-based companies have shipped production overseas. But Mr. Pisano is encouraged by a growing national movement to "buy American," a grass-roots response to the loss of jobs and declining product quality. "We're pleased that our fellow Americans are seeking out American-made products," he says. "It's patriotic, it feels good, and let's face it: Americans make quality products."
Mr. Pisano's sentiments are echoed by none other than the President of the United States, Barack Obama. In December 2010, President Obama said: "We want to create and sell products all over the world that are stamped with three simple words: 'Made in America.' That's our goal."
Does buying American really make a difference? Piazza Pisano likes to point to a statistic from Moody's Economy.com: if every American spent an extra $3.33 on U.S.-made goods every year, it would create nearly 10,000 new jobs.
In addition to being "made in America," Piazza Pisano expresses its patriotism by creating a wide variety of U.S.-themed products, including a new line that bears trademarks of the U.S. Army. The company entered into an agreement with the Army in July 2011, and is now offering products featuring the slogan "Army Strong," the Eagle symbol, and the Army logo. Says Mr. Pisano, "I have the utmost respect for the U.S. Army and appreciate the enormous contributions of our soldiers and their families. I believe many other people feel the same way and would like to show their support for the U.S. Army in a very visible way."
Piazza Pisano produces each of its pieces from Al Pisano's original wood carvings and plaster and clay bas reliefs. Each piece is meticulously hand cast, then hand-painted and stained to bring out all the incredible detail. Many of the designs can also be personalized at no charge, making them excellent gifts.
Mr. Pisano's home decor artwork can be viewed and purchased at his web store http://www.piazzapisano.com. For wholesale inquiries please contact kay(at)piazzapisano(dot)com.
Al Pisano is an artist from New York City who worked as a commercial artist for many years in New York City. He is a graduate of the School of Industrial Art in New York and is a member of the Society of Illustrators. Mr. Pisano started his art career as an illustrator and advertising Art Director and evolved into creating dimensional art through wood carvings and clay bas reliefs. He co-founded Country Carver Inc. 20 years ago to create private-label art for major retailers. Three years ago he co-founded Piazza Pisano to sell his artwork directly to consumers. To contact Mr. Pisano, please call 800 766 5051 ex 1, or email: al(at)piazzapisano(dot)com. For more information on Piazza Pisano or for wholesale inquiries please contact Kay Coulter , kay(at)piazzapisano(dot)com.
###