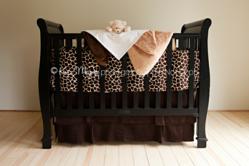 The Buddy and Boo Swaddling Blanket is unlike any of my others. It's extremely soft and not as rough as the others that come in packages.
Seattle, WA (PRWEB) October 22, 2011
Buddy and Boo Baby Creations has had a great first quarter in sales. The unique products have gotten rave reviews from mommy bloggers and in other social media. With the advertising focus on line, in the Northwest edition of the Bump magazine, along with the Living in Style television segment, the second quarter should be even better.
The soft baby blanket line, which includes everything from a soft oversized swaddling blanket, to the super soft warm snuggle blanket, is doing very well and moving into fall they will be a big favorite with new mom's. The unique hooded "Grab and Go" blanket has been a best seller for those quick in and out trips with baby as well.
Nothing is more irritating than trying to change a wet crib sheet in the middle of the night and having to untie and remove the crib bumpers just adds to that frustration. With Buddy and Boo's patented bumper design, mom can easily change the sheet with the bumpers in place. The warm plush fabric is also a successful feature.
This along with the patented crib skirt with it's removabel lower ruffle, makes the crib beautiful while being very functional.
The Buddy Pillow blanket is a favorite with grandma's, to use for nap time, or just as a floor blanket for the visiting infant. Sales have been strong on this item for grown up nap time as well.
###