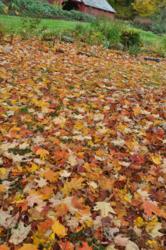 Even busy gardeners can prepare for winter by following some easy steps.
Lebanon, PA (PRWEB) October 20, 2011
If a busy schedule has kept you from attending to fall garden chores, here are some last minute essentials from the "Garden and Landscape Tips" section of http://www.preen.com. to do before winter winds begin to blow.

If fall rainfall isn't up to par, at least an inch or more every week or 10 days, then continue your watering routine. It's important for plants to go into cold weather adequately hydrated.
Before temperatures drop to freezing, drain the garden hose, coil it and store in a protected area for the winter. Close the feeder valves to outside taps, then open the taps to release water that might freeze and damage them.
Rake or shred tree leaves, especially large maple and sycamore leaves, to prevent them from matting down and smothering grass. You can also run over the leaves with a mulching mower, which chops them into small bits. These finely chopped leaves can be left on the lawn, where they will break down and add nutrients to the soil.
Now's an ideal time to start a compost pile if you don't already have one. The combination of spent plants from the garden, excess fallen leaves and grass clips from the final, shorter cut of the season make a perfect compost blend.
Clean garden tools before putting them away for winter. Soapy water and a steel brush or sand paper can remove caked-on rust or dirt . A lightweight oil applied to the metal on tools can help prevent rust. Vegetable cooking oil works fine. Wooden or fiberglass handles should be scrubbed of dirt and debris. Sand rough spots to reduce splinters. A furniture paste wax or linseed oil will help keep wooden handles from drying out.
Make sure all of your garden products have the lids and caps on securely. Products such as Preen Weed Preventer can be stored anywhere, but must be kept dry with the cap securely closed. Avoid placing on porous surfaces such as linoleum as it may stain.
Sharpen shovels, spades, trowels, hoes and lawn mower blades with a sharpening stone, file or bench sharpener before storing them for winter.
For more information on gardening and landscaping visit http://www.preen.com. Preen is the leading brand of garden weed preventers. Preen products don't kill weeds; they are weed preventers. They stop new weeds from happening.
###