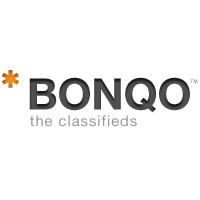 we can give users a far superior user experience than they're used to on other websites.
Los Angeles, CA (PRWEB) October 20, 2011
Since BONQO's inception in late November 2010, the peer-to-peer marketplace has aimed to be the safest online classifieds site by manually pre-screening each and every incoming ad. Now as BONQO approaches its first birthday, it comes as no surprise that BONQO users by and far prefer the fresh-faced newcomer over more established websites.
As scams run rampant online, users often cite BONQO's dedication to safety as their reason for choosing BONQO over competitors. BONQO users appreciate the high visibility and availability of its employees on site, all who make themselves available to users.
"We feel that by manually reviewing our ads and having a very responsive customer service team, we can give users a far superior user experience than they're used to on other websites. From what we've seen, our users strongly agree," spokesperson Taylor Scott remarked of BONQO's popularity.
Yet, it is not solely the safety of BONQO that attracts users. BONQO's users continue to respond to the modern and clean layout of the website, a unique contrast to other classified websites. Visually, BONQO is constantly evolving, and plans to be that way to keep its user base happy.
The Santa Barbara-based website was established by Ella Internet Technologies in late 2010 and, following the site's introduction in November 2010, has experienced considerable success in the Southern California Area, particularly in BONQO's home base, the Greater Los Angeles.
BONQO marks their first full year of live success this October. The site continues to expand everyday through its API, which triggers "automated bulk uploads" for car dealerships, property management companies, and real estate agents.
For further inquiries regarding BONQO.com, please contact Taylor Scott at taylor.scott(at)BONQO(dot)com or 805.879.1586.
###