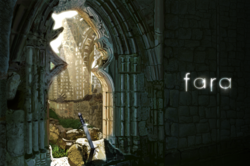 Fara: Action RPG and physics gameplay meet in a beautiful hand painted world.
Dallas, TX (PRWEB) October 21, 2011
Fara is available now in the App Store for a launch only sale price of $.99 (66% off the regular price of $2.99).
A brilliant new hybrid of action RPG, physics gameplay, and hand painted visuals invades the App Store today with Fara, the new iOS title by Pixel and Texel. Explore an island full of vikings, wise-cracking blobs of goo, magic, and disgruntled monsters to discover a lost world's secrets. Developed by the two person team at Pixel and Texel, Fara features intuitive touch screen controls, full Game Center/Leaderboard support, and exclusive features built for iOS 5.
"looks quite stunning...I selfishly would love to get my hands on the game as soon as possible."

"...detailed painted backdrops and use of the Box 2D physics engine are coming together to create one impressive package..."

"...filled with great ideas and clean animation."

"a bevy of beasts, bosses, puzzles, and fourth-wall-breaking smart alecks."

-AN ACTION RPG WITH INCREDIBLE PHYSICS GAMEPLAY-
-Retro-inspired action RPG gameplay combines with full physics integration for a brand new experience. Control flaming ballistas, enormous battering rams and powerful magic in a dynamic environment full of quests, abilities, and items.
-EXPLORE A BEAUTIFUL HAND PAINTED WORLD-
-The world of Fara is a giant, living canvas. Visit amazing locations that mix hand drawn artwork with a modern effects engine for a stunning new look.
-AN EPIC QUEST FULL OF QUIRKY CHARACTERS-
-Explore the island and meet its strange inhabitants. A cast of hilarious, weird, and entertaining characters drive the story along at a brisk pace.
-INTUITIVE TOUCH CONTROLS BUILT FOR iOS-
-Fara features simple touch controls or a more traditional virtual pad for gameplay that was specifically created for the touch screen.
-CLASSICAL COLLIDES WITH CHIPTUNE IN THE ORIGINAL SOUNDTRACK-
-Orchestral arrangements mix with vintage sounds for a score that is both familiar and innovative.
-FULL GAME CENTER INTEGRATION WITH LEADERBOARDS AND ACHIEVEMENTS-
-Compete against friends or challenge yourself with Leaderboards and Achievements.
Connect with us:
Facebook: http://www.facebook.com/pixel.n.texel
Twitter: http://twitter.com/#!/pixelandtexel
###