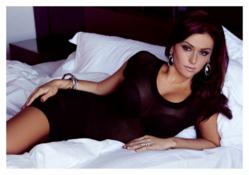 "I created JWOWW.com to talk directly to my fans. This is way for me to share my life with them and theirs with me," says JWOWW!
Los Angeles, CA (PRWEB) October 19, 2011
Jenni "JWOWW" Farley, the TV personality, author, beauty guru launches her new official interactive online hub, JWOWW.com on Thursday, October 20 to coincide with the finale of "Jersey Shore" on MTV, announced EQAL, the media company that builds influencer networks around celebrities and brands. The site, which Farley will update daily, is the destination for exclusive content and commentary on all things JWOWW. The new site opens JWOWW's fans up to her personal approach to life, love, fashion and animal advocacy.
JWOWW launches her site with a look back at the past season in Italy for Season 4 of "Jersey Shore", giving her direct insight on friends, foes and foibles to fans visiting the site. During the finale, JWOWW will host a live chat on JWOWW.com. Finale airs on MTV 10/9C Thursday.
In her personal reflection on JWOWW.com, Jenni looks back at the Jersey Shore gang's time in Florence and looks ahead at going back to the Shore. JWOWW says that she's "ready to go back to Jersey." She advises "The Situation" to "work it out" with Nicole "Snooki" Polizzo.
She also shares her secret to the perfect spray tan "It is all about getting the spray to hit at the right distance, angle, and layering it up."
"I created JWOWW.com to talk directly to my fans. I love meeting my fans so this is way for me to share my life with them and theirs with me and the rest of the community. Between the show, my tanning lotion and my book I wanted a place to tie everything in together. Everything that you read on the site will be from me," said JWOWW.
"JWOWW is an innovative personality that can utilize all that EQAL has to offer," observed Miles Beckett, co-Founder and CEO of EQAL, "We have the ability to build individual networks around the talent that allows them to interact directly with their fans and the communities that they build." Added Greg Goodfried, co-Found and President of EQAL, "JWOWW is an entrepreneur with a far reaching audience. With JWOWW.com we created one destination to for her fans to get her take on everything from Jersey Shore to her daily workout."
About Jenni "JWOWW" Farley:
Jenni "JWOWW" Farley (born: February 27, 1986) at 21, Jenni left her upstate New York home for Manhattan, where she began a career in computer programming and graphic design with her business Jenni Farley Designs Inc. In the winter of 2009, Jenni put her career on hold to become a household name when she appeared on the debut episode of MTV's Jersey Shore. Season 5 is currently in production and will premiere in January 2012. In the future, fans will have the opportunity to watch Jenni and best friend, Snooki, as they move in together and continue their wild and crazy antics. The show is slated to debut sometime in 2012. Since making her television debut, Jenni has parlayed her success into several lucrative business opportunities. In 2010, Jenni released her book titled The Rules According to JWOWW, launched the JWOWW Black Bronzer lotion with tanning lotion-makers Australian Gold, established her clothing line "Filthy Couture", and began production on a fragrance and skincare line. Jenni currently resides in New Jersey with her two dogs, Bella and Noel, and her boyfriend Roger Matthews.
About EQAL.com:
EQAL is a media company that builds influencer networks around celebrities and brands. Their celebrity and brand networks include the official websites and social media accounts for Tori Spelling, Lauren Conrad, Randy Jackson, Elle and Blair Fowler and the brand partnership with Philadelphia Cream Cheese that recently won a Gold Effie Award. Their celebrity networks generate close to 200 million impressions per month and reach 15 million people. EQAL's "hub and spoke" strategy focuses on building an integrated media property by increasing social media numbers, driving traffic and engagement to the celebrity's official website, and providing new revenue opportunities. EQAL was founded by Miles Beckett and Greg Goodfried, creators of the online sensations lonelygirl15, KateModern (with Bebo) and Harpers Globe (with CBS television). The two are widely credited as being the first to create quality serial programming for the internet, for integrating products into online programming and for originating the first "online to on-air" programming with a network television show. Miles and Greg are frequent speakers on digital entertainment and brand integration in the online space as well as the future of entertainment on the internet and beyond. The company continues to evolve at the rapid speed of the medium as it combines quality content, celebrity influencers and technology.
Contact for JWOWW.com:
Melissa Kwechansky, EQAL
Melissa(at)EQAL(dot)com
818.276.6319
Jill Siegel, EQAL
Jill(at)EQAL(dot)com
917.214.1710
###