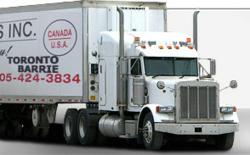 ADCO arrived on time, packed up whole house, wrapped all our furniture and the next day loaded everything on the truck. I received my belongings on schedule. It was the best mover ever!
Barrie, Ontario (PRWEB) October 25, 2011
ADCO is a professional moving company and has serviced the Greater Toronto Area for many years. ADCO Movers have added a new vehicle to their fleet of moving trucks that can carry the same amount of cargo as larger rigs, but can now maneuver into smaller areas for loading and unloading.
The cost of updating commercial vehicles for any business, including this Toronto Moving company can be significant, but ADCO felt it necessary for a couple of reasons. Firstly, their new vehicle is much more economical in terms of fuel usage, which is better for the environment, but it also is easier to pick up house and home contents too. This new vehicle can maneuver into smaller zones for better access to pick up and off-load contents over larger tractor trailer boxes.
Always looking out for their customers, Adco Movers goes the "extra mile" making sure they arrive on time to load and arrive on time to deliver home owners and business contents.
Clarence Barron, of ADCO Movers, "We can move both big and small projects. Knowing this we are amazed at how the larger companies overlook smaller moves and people end up renting a truck or hiring a one-man moving service with little experience, insurance and care very little about the contents they are moving." Clarence also advises his clients to visit their website to read their tips for moving, which are designed to make any move, a smooth one.
One aspect that has plagued those that want to move is having minimal room for movers to access for pick up and unloading of contents. "Our new vehicle can carry the same amount of cargo as tractor trailer rigs, but we can get into smaller spaces without blocking other trucks or traffic on residential streets."
Clarence is proud of the experiences learned in over 25 years of residential/commercial moves. He has learned from others mistakes and has a knack of taking the stress out of any move for his clients, many of which have used ADCO time after time.
ADCO is proud of their dedicated professional movers to take care of all moves – big and small. ADCO's staff takes the best care of all treasured belongings like they were their own. Fully insured and with the highest-level track record of successful moving projects, ADCO services the Toronto, GTA area, Barrie Ontario and beyond.
ADCO Movers Inc. is a family owned and operated business, moving residential and commercial goods and are an official bonded carrier with Canada Customs since 1990. ADCO provides reliable, residential and commercial moving services, relocating families and business locally or across Canada and the USA.
For more information on ADCO Movers, call their office toll free at 888 250-2008, locally at 416 631-8189 or visit their website at http://www.adcomovers.ca.
###