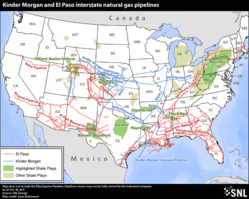 "Ths deal emphasizes the growing importance of natural gas as a fuel for heating and power generation and the importance of the delivery of natural gas supply to US demand markets," notes SNL Energy Director Michael Carter.
(PRWEB) October 20, 2011
In the wake of Kinder Morgan Inc. striking a $20.9 billion deal to acquire El Paso Corp., SNL Energy takes a detailed look at each company's natural gas pipeline portfolios, as well what the combined entity might look like.
Kinder Morgan currently has roughly 23,000 miles of natural gas pipelines currently in operation and El Paso has nearly double that with more than 43,000 miles of pipeline in its network.
With a total transaction value of $38 billion, including roughly $20.9 billion in cash and stock, the deal would increase Kinder Morgan's gas pipeline portfolio to more than 66,000 miles of pipeline across the United States.
The majority of Kinder Morgan's current pipelines are in Texas and the Midwest, while El Paso's portfolio stretches more expansively through the Southwest, Southeast, Mid-Atlantic and Northeast regions of the country.
One major benefit of the deal for Kinder Morgan is that it will broaden its capabilities to transport gas from some of the largest shale plays in the country — such as the Marcellus, Utica and Barnett shales — to areas where natural gas-fired generation is in high demand, particularly the PJM Interconnection LLC, California and Florida markets.
Kinder Morgan will reportedly sell off El Paso's exploration and production assets to help pay off debt and drop down El Paso's pipeline assets into its Kinder Morgan Energy Partners LP and El Paso Pipeline Partners LP subsidiaries.
With the advent of shale fracking technology and the discovery of massive shale plays in the United States, the nation's supply of natural gas far exceeds current demand, causing the price of gas to fall drastically over the last few years. The abundance and proximity of the resource suggests that the price of gas will be less volatile than oil and will remain low for some time.
This stability has led to an increase in coal-to-gas switching at U.S. power plants, largely because in some area of the country it has become more economical for generators to use lower-cost gas units over coal-fired units.
The abundance of cheap gas, along with a series of strict new clean air regulations being implemented by the U.S. Environmental Protection Agency, is also sparking a change in the makeup of the U.S. generation fleet from a predominantly coal-fired fleet to a more balanced fleet with gas-fired generation taking a more predominant role.
In a recent report, SNL Energy found that... For the full report, CLICK HERE.
***Notes: Pipeline mileage information was pulled, when possible, from 2009 infrastructure data reported to U.S. Office of Pipeline Safety, and major projects completed since 2009 were included in state totals. State breakouts for projects not included in 2009 OPS data are approximate. OPS 2009 data was unavailable for Kinder Morgan Tejas, Kinder Morgan Border Pipeline, Kinder Morgan Illinois and Horizon Pipeline. This data was sourced from Kinder Morgan's website. Reported pipeline miles may differ slightly from company reported data.
###