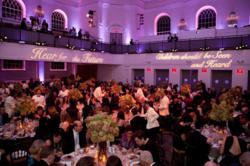 Donations allow the historic nonprofit to serve the community's intense need for affordable, compassionate, and state-of-the-art hearing healthcare.
New York, NY (PRWEB) October 20, 2011
At 101 years of continuous service, the Center for Hearing and Communication (CHC) has helped thousands upon thousands of New Yorkers with hearing loss to communicate and cope in a hearing world. This month, the agency will once again give gala guests face time to chat with with the city's top chefs and local news anchors for its annual "Feast." Uniquely tapping into NYC's talent pools for support, last year CHC's centennial gala raised over $1,000,000. Donations allow the historic nonprofit to serve the community's intense need for affordable, compassionate, and state-of-the-art hearing healthcare.
The festivities are slated for October 24, 2011 at Pier Sixty, part of Chelsea Piers. Bill Ritter, anchor of "Eyewitness News," will host the sumptuous and heartwarming event. As is Feast tradition, guests will enjoy a walk-around tasting as 28 of NYC's top chefs offer up their specialties. This year's culinary artists include "Iron Chef America" competitor and executive chef at Butter, Alexandra Guarnaschelli; the Beacon Restaurant & Bar's Waldy Malouf; and Ed Brown of his namesake Ed's Chowder House. The walk-around layout gives guests the opportunity to interact with the chefs as well as New York's television broadcasters, who act as "sous chefs." Attendees will find the familiar faces of Brenda Blackmon from My9, Francesca Maxime of PIX11, Ernie Anastos of Fox 5, and NY1's Shazia Khan, among others, helping to serve so many signature items from famous New York kitchens in one event. For the first time, this year's Feast will feature a seated dessert room, where guests will be served decadent treats while bidding on fantastic live auction items auctioneered by Nicholas Dawes of "Antiques Roadhouse." Items donated to the charity auction include hard-to-get tickets to exclusive venues and performances (Wimbledon, "Book of Mormon," etc.), behind the scenes access to tapings of top TV shows, special meals at fabulous NYC restaurants, and one-of-a-kind fashion. Following the auction, guests will enjoy special performances by Broadway talent, including Janet Ducal and Darren Ritchie.
The event will illuminate the world without limits made possible by the nonprofit agency's extraordinary public service. The agency's top notch clinicians provide innovative communication therapy that teaches babies who were born deaf to speak; a staff of certified therapists counsel people with all degrees of hearing loss; and a state-of-the-art "Listening Studio" allows audiologists to program modern hearing aids in dozens of real world noise environments, allowing for real-time adjustments and maximum gain. New programming over the past year includes 2010's launch of the Auditory Processing Center, already a field-leader in the diagnosis and rehabilitation of oft-misunderstood, debilitating childhood auditory challenges. CHC also founded the Noise Center, home of NYC's noise experts, alongside International Noise Awareness Day. For 17 years, the globally recognized day has sparked government policy changes, public health events, and public art exhibits surrounding noise pollution, its dramatic effects on health, and hearing loss prevention.
A public resource, every day the not-for-profit organization's staff responds to urgent requests for information and help from around the world. Clinicians take the time that is truly necessary to treat all the effects of hearing loss – social, emotional, and physical. A client since childhood and current volunteer, Susan Kornfeld puts it this way: "CHC staff does a wonderful job of not only providing treatment, but they also care deeply about each client's personal journey. My experience with CHC has caused me to embrace hearing technology, to highly value its services and get involved helping other clients whenever I can." This year's gala theme, "Hear the Difference," will highlight the audiological, speech and communication therapy, and emotional health and wellness services that rise above and beyond what is provided by typical private practices.
CHC is renowned for a unique approach, a hugely diverse array of services, and successful outcomes that cut down to size the obstacles between people and hearing healthcare. A CHC client and scholarship recipient's mother stated, "Rarely a day goes by that I don't look at Zoe and something she has accomplished and honestly wonder how it would have happened had I not found CHC when I did." Donor support allows the agency to connect people in all financial circumstances with the hearing technology they need to connect to life. A warm, welcoming space devoted to providing compassionate care, the agency takes care to address the emotional needs of individual and families during treatment for hearing loss, encouraging a positive sense of acceptance toward the benefits of hearing technology. CHC teaches clients how to advocate for their (or their child's) needs, and many clients credit the agency for fostering their ability to do so. "CHC played a pivotal part in my life. It broadened my horizons and expectations of what I could achieve. My interaction and association with other children like myself provided me with the self-esteem I was so desperately in need of," reports Estelle, who has been a client since the 1950s when she was three years old.
The Feast is an event of joy and hope, and an embodiment of New York City's spirit of compassion. To learn more about the event, phone (917) 305-7807 or visit http://www.CHChearing.org.
###