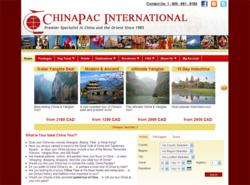 More than 700 recommended tours and activities in China and South East Asia
Vancouver, BC (PRWEB) October 20, 2011
Chinapac International, premier specialist in China & the Orient since 1985, introduces a new, fully integrated online booking engine – the first among Canadian Asia tour operator to offer an advanced booking system.
Designed with a simple yet sophisticated interface, the new booking tool will help both clients and agents on planning and booking their Asia travels with more ease and convenience. Its user friendly navigation system allows for an uncomplicated browsing experience through more than 700 recommended tours and activities in China and South East Asia.
Complete with an easy-to-use search engine for looking up tours, accommodations, flights, transfers, excursions and other needs for the users' travel, the new booking instrument also features a shopping cart that helps plan, store and even share journeys to friends. For security, users will require a log-in account to successfully book their travel plans. Furthermore, instant confirmation will be delivered seconds after making their booking while tickets and travel vouchers will be emailed for their convenience.
"The new online booking engine carries the ability to easily search, display prices and show additional results relative to the users' existing travel pursuits," said Otis Ashby, Chinapac Director of Sales & Operations. "Its simplicity and efficiency will give users the freedom to easily manage their trips all on their own."
For the non-technology-savvy travelers, Ashby assured that "Chinapac agents may be contacted should they need consultation and assistance with their bookings."
To celebrate the launch of this new website, Chinapac will rewards its first 100 successful bookings with a $10 HBC gift card.
For questions or for more information, please visit http://www.chinapac.ca or call 1-800-661-8182.
Chinapac International specializes in travel service to China and the Orient and is proud to celebrate 26 successful years in the travel industry as the premier travel package tour operator to the People's Republic of China and South East Asia.
###