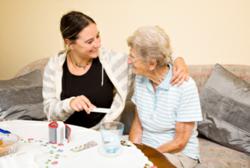 ASA has become a service that care managers depend on and appreciate.
Pittsburgh, PA (PRWEB) October 24, 2011
From the inception of the Waiver Program in 1997 to the current 41,500 consumers served under the Allegheny County Area Agency on Aging (AAA), Automated Security Alert is proud to celebrate its 14th year working to provide the community with a way for older adults to stay safely at home.(i)
When the AAA had just one person on staff, to the now over 70 care managers, ASA has been an integral piece of the county's plan to provide support and assistance to the seniors in the area. Both teams have worked together to constantly expand the number of products and services available under the federally funded programs. When there was a need for monitored medication dispensers that were not being offered, ASA worked with existing technology to develop options that were feasible for everyone. To this day, ASA strives to make the latest advancements available to each consumer in the program.
According to published background information, "AAA provides a wide range of services designed to help older adults live safe, healthy and independent lives, including assisting them to remain living in their own homes as long as possible."(ii) In-home services are available to adults 60 years and older who are determined to be financially eligible. After a call to the county SeniorLine, a care manager works with the consumer to develop a care plan that includes all of the services available that will be of the most assistance.(iii)
Under both the Waiver and Options programs, ASA provides residents with medical alert and medication management systems. As one of the selected community providers of the AAA, they must meet strict criteria and standards. All procedures must adhere to premium levels of care, including highly trained technicians, in-person service calls within 24 hours, equipment pick-up within 48 hours and nightly check-ins for consumers. ASA offers these service calls for no charge, as well as free equipment replacement.
Because of this relationship that has spanned nearly 15 years, ASA has become a service that care managers depend on and appreciate. The staff has been commended on the detailed reports they send to the care managers that give a step-by-step account of consumer activity. Since not every provider offers this information in such a timely manner, the care managers have said they appreciate having the reports on their desk in the morning. Representatives have also used ASA as a prime example when lobbying to Harrisburg for more funding, using the products and services to showcase the quality the agency could be providing to Pennsylvania's seniors.
As both ASA and the AAA grow, so will their rapport and opportunities to work together. Currently the teams are developing a care transition program to meet federally mandated standards to more effectively provide in-home care to the county's seniors. Each time an ASA staff has a chance to meet with care managers, they are proud of the warm welcome they receive as a result of their reputation and service provided to the county. With each step the agency takes to help the growing number of seniors in the area, ASA will be close by their side.
About Automated Security Alert: ASA has been a local provider of personal emergency response and medication dispensers since 1988. With offices in Philadelphia, Cleveland and their main headquarters in Pittsburgh, ASA's trained operators provide in-home safety throughout the region with medical alert, fall detection, and medication management systems. Through use of the array of available products, patients can increase their time at home by an average of six years. For more information on maintaining an independent lifestyle, visit http://www.automatedsecurityalert.com.
i AAA Budgets Only.pdf. Allegheny County DHS Area Agency on Aging. http://www.alleghenycounty.us/WorkArea/linkit.aspx?LinkIdentifier=id&ItemID=22782. 13 October 2011.
ii Ibid
iii Ibid
Media contact:
Matthew Couillard
Automated Security Alert Inc.
(412) 461-2288
couillardmw(at)automatedsecurityalert(dot)com
###