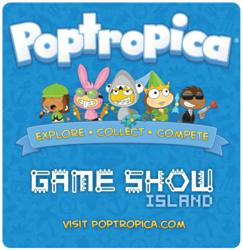 Poptropica players will embark on an exciting new adventure with many games to challenge their knowledge and skills on Game Show Island.
Boston, Mass. (PRWEB) October 26, 2011
Global challenges await Poptropica visitors with tomorrow's launch of the new Game Show Island, the 22nd Island on the popular virtual world for kids. Poptropica Members with Early Access can experience the entire Island on Oct. 27, while non-Members will have access to a demo – a limited portion of the Island experience – until the public launch in November.
When Poptropica players visit Game Show Island, they will discover that Robots have taken over the world by winning all of the money and prizes from game shows. Under the diabolical leadership of a computer mastermind named Holmes, they are now forcing the humans of Poptropica to do all of their grunt work for them. The player's goal is to beat the robots at the five different game shows and reclaim the dignity of all Poptropicans.
The engaging game shows take place in cities all over the world, such as Moscow, Buenos Aires and Istanbul, and feature challenges such as trivia games, word games and obstacle courses.
"Poptropica players will embark on an exciting new adventure with many games to challenge their knowledge and skills on Game Show Island," said Jess M. Brallier, publisher of Poptropica. "Plus, they will travel to new corners of the world, learn about other cities and cultures and, in the end, hopefully, conquer those pesky Robots."
Recently named as one of TIME magazine's Top 50 websites of 2011, Poptropica's Islands have been visited by more than 185 million kids worldwide since its launch in 2007. Players come from more than 100 different countries and have their web browsers set to more than 70 different languages, ranging from Spanish and Sanskrit to Vietnamese and Croatian. All Poptropica Islands are free to play, and each represents a unique theme and challenge.
Earlier this month, Poptropica: The Official Guide was released offering fans a detailed walkthrough of the site as well as background on the Islands, characters and behind-the-scenes content. This guide, the first of many Poptropica books to be published, joins a line of Poptropica toys manufactured by Jazwares, Inc. The sets of plush figures, three- and six-inch action figures, and playsets are available at Toys"R"Us stores nationwide and online at http://www.Toysrus.com/Poptropica. In addition, beginning in November, fans will be able to find the toys at select Barnes & Noble stores.
About Poptropica (http://www.poptropica.com)
Poptropica is a virtual world in which kids explore and play in complete safety. Every month, millions of kids from around the world are entertained and informed by Poptropica's engaging quests, stories and games.
Kids create a "Poptropican" character to travel the many Islands of Poptropica and use gaming literacy to enjoy a narrative that is often rooted in factual history. Problem-solving skills are honed as kids discover and solve mysteries unique to each Island.
There are always new areas to explore in this ever-expanding world where kids can collect objects, read digital books and comics, watch movies, and compete in head-to-head competition. Parents can always trust that their children are playing – and learning – in a safe online environment.
Poptropica is published by Family Education Network, a part of Pearson, the education, services and technology company. Pearson's other primary operations include the Financial Times Group and the Penguin Group.
###