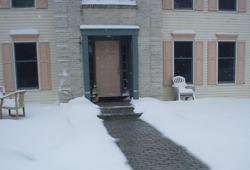 As architects realize the ease of use and effortless installation process, trust is quickly established and appreciated in Calorique's technology.
West Wareham, MA (PRWEB) October 26, 2011
Calorique, a global leader in the manufacturing of low cost, energy efficient radiant heat panels, is experiencing patterns of increased use by architects looking to add comfort to home design when selling their services to home owners and building contractors craving high-end products in their distinguished visions for construction or remodeling projects.
Knowing the need for cutting-edge features and eco-friendly attributes to keep pace with, as well as stimulate consumer demand, architects across the U.S. value the diversity of Calorique's products and use them to respond to, and exceed their client's aesthetic desires.
Benefiting from the functionality of outdoor snow and ice melting, while appreciating the extraordinary benefits of the mirror defoggers and pet solutions, architects view Calorique as a complete package when addressing the diverse needs of home comfort.
"As architects realize the ease of use and effortless installation process, trust is quickly established and appreciated in Calorique's technology—specifically because of it's ability to be invisible in end-product designs," says Edward Gilmartin, National Sales Manager of Calorique. "The confidence in our products leads them, not only to the reuse of our renowned floor heating solutions, but the utilization of our other innovative products—from the practicality of our snow and ice melting to the affordable luxury of our mirror defoggers and mobile feet warmers."
Alongside the upward trends of innovative design with their seamless products, Calorique is keeping up with customer expectations by allowing the planning, ordering, and installation process of their technology to be painless, maximizing utilization of their interior and exterior budget-priced premium products.
Understanding these diverse needs and heightened standards of their clients in the highly-competitive market, architects are furthering their knowledge of untraditional options to create a big-picture approach for home owners who desire complete design solutions.
About Calorique
Since 1980, Calorique has been a global leader in the development of heating technology for residential and commercial applications. The U.S.-based manufacturer located in West Wareham, Massachusetts, at the gates of Cape Cod, is becoming one of the world's fastest growing companies of advance circuitry. Calorique offers a wide variety of solutions that cover many industries from home heating and healthcare to commercial aerospace. Serving more than 25 countries world-wide, Calorique continues to grow as new resellers and distributors add its heating solutions to complement the world's best commercial and residential lifestyle products.
To learn more about Calorique and its products, visit calorique.com or find out about other recent news at http://blog.calorique.com/.
###