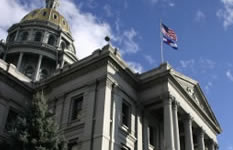 Save time and money.
Denver, CO (PRWEB) October 25, 2011
"Bradford's C.R.S. on Real Property Law" and "Bradford's C.R.S. on Family Law and Domestic Matters" combine all of the Colorado statutes and court rules that attorney's use every day into a single volume for that practice area, saving time searching multiple volumes. Both books include annotations, source notes, examples of time-tested Bradford forms, and a comprehensive index. The Real Property law volume includes all of Title 38, Property—Real and Personal and pertinent sections of Titles 6, 10, 12, 13, 24, 30, 34, 37, 39, and 43 . The Family Law and Domestic Matters volume includes all of Title 14, Domestic Matters and pertinent sections of Titles 10, 11, 13, 15, 18, 19, and 26.
The "2011 Vehicle and Traffic-Title 42 and Common Code" is perfect for a patrol car, court, a classroom or an office. This volume includes traffic violations listed in statute order, a quick reference guide to traffic penalties and points, and the current Common Codes as provided by the Colorado State Patrol. This volume contains titles 42: Vehicles and Traffic, title 43, article 5: Highway safety and relevant sections of Title 12: Automobile Dealers and Commercial Driving Schools and sections of Title 24: Vehicle Equipment Safety, Driver's License and Nonresident.
The "C.R.S. Pertaining to Criminal Law 2011" is published by the Colorado District Attorneys' Council and provides essential information to attorneys who practice criminal law. This publication is used widely by defense attorneys, prosecutors, judges, and virtually all key policymakers in the criminal law field. Included in this volume: Title 16, Criminal Proceedings; Title 18, Criminal Code; Title 20, District Attorneys; Colorado Rules of Criminal Procedure; Colorado Rules of Evidence; Criminal Code Penalty Charts; Table of 2011 Amended Statutes; and pertinent sections of Titles 12, 13, 19, 24, and 42.
All of Bradford's CRS publications are officially sanctioned, accurate and complete presentations of the statutes as contained in the Office of Legislative Legal Services Colorado Revised Statutes database.
About Bradford Publishing Co.
Founded in 1881, Bradford Publishing Company is Colorado's oldest and most trusted publisher of legal information, including legal forms, electronic legal forms, law books, and statutes. With a retail store and offices in Denver's historic LoDo district, Bradford Publishing provides legal forms and reference materials on a variety of legal topics for attorneys, other professionals, and consumers.
Their commitment to quality is the cornerstone of Bradford's business philosophy and they regularly update the content of their books and other publications, so consumers can rely on the most accurate and current information available.
###