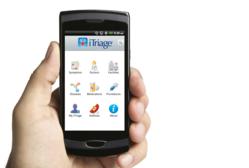 At Logan Memorial Hospital, we're proud to offer the latest technology to the patients in our communities
Denver, CO and Russellville, KY (PRWEB) October 21, 2011
With U.S. smartphone ownership at 40% and climbing, more consumers than ever before are using their mobile devices to access information online. Today, Logan Memorial Hospital announced that it has increased its presence in the mobile market by partnering with iTriage®, a free consumer healthcare application.
iTriage gives mobile device users quick and easy access to medical information along with GPS based directions to the closest and most appropriate medical facility for their particular condition. The iTriage application can be accessed free of charge from the app stores for iPhone® or Android® devices, or through any Internet-enabled device at http://www.iTriageHealth.com.
Schumacher Group, the nation's third largest emergency and hospital medicine management firm, has brought iTriage to Logan Memorial Hospital. This technology provides the residents of Logan County and surrounding communities with the resources to make informed medical decisions when illnesses and accidents occur. Users can also use the interactive iTriage mobile technology to:

Learn about possible causes and treatment options
Obtain medication information for treatment of a specific condition
Find detailed Logan Memorial Hospital information like services, specialties, hours of operation and turn-by-turn directions.
"At Logan Memorial Hospital, we're proud to offer the latest technology to the patients in our communities," said William Haugh, CEO, Logan Memorial Hospital. "As more patients turn to their mobile devices to access information, it's critical to provide the resources help them make informed decisions about how and where they will seek medical care."
"When healthcare providers put useful medical information into the palm of their patient's hands with iTriage, consumers are empowered to make informed decisions about where they will seek care for a medical condition," said Peter Hudson, MD, co-founder of iTriage, LLC. "We live in a new world that requires patients to be more informed and responsible for their health and iTriage allows them to play a larger role in their healthcare."
Graphic assets for the media can be accessed at http://www.Healthagen.com/client-assets/
About iTriage, LLC
Headquartered in Denver, CO and co-founded by two emergency physicians, iTriage offers a unique Symptom-to-Provider™ pathway that empowers patients to make better healthcare decisions. iTriage helps people answer the two most common medical questions: "What condition could I have?" and "Where should I go for treatment?" Millions of consumers around the globe have downloaded iTriage on their mobile devices and thousands of healthcare providers use iTriage to reach and communicate critical facility and service information to patients. For more information, please visit http://www.iTriageHealth.com.
###