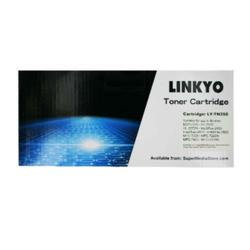 Those who purchase LINKYO branded toner cartridges can expect the same industry leading quality they've come to associate with SuperMediaStore
La Puente, California (PRWEB) October 20, 2011
Available at SuperMediaStore.com and other major retail channels, new printer toner cartridges bearing the LINKYO brand name are making their way into the market, with the first wave offering compatibility with specific Brother toner cartridge models. Competing directly against toner cartridges from well-known printer makers, LINKYO branded toner represents a lower-cost alternative while matching the quality of LINKYO's much larger competitors. With the move coming amid a time of economic uncertainty, LINKYO is betting customers will jump at the chance to save money on a product infamous for its high price while receiving the reliability and quality the company is known for.
With LINKYO's long history as a retailer of printer supplies manufactured by other companies, the decision to sell LINKYO branded toner cartridges makes perfect sense. Years of experience in dealing with customer concerns and issues has provided the company with valuable insight into what qualifies as high-quality toner. The company plans to incorporate everything they have learned from their nine years in the industry to provide a privately labeled product embodying what shoppers seek in a reliable toner cartridge.
"Those who purchase LINKYO branded toner cartridges can expect the same industry leading quality they've come to associate with SuperMediaStore" said Michael Liu, CEO of LINKYO. "Our customers know that our company considers top notch service and support as priority number one."
Shoppers who decide to go with a LINKYO branded toner cartridge will receive the remarkable SuperMediaStore treatment from beginning to end. Their item will ship rapidly and provide outstanding print quality, all while receiving friendly customer service, including the 100% satisfaction guarantee the company is famous for.
Established by LINKYO Corporation in 2002, SuperMediaStore.com is a leading retailer of computer accessories, storage media, and printer toner and ink cartridges. Headquartered in La Puente, California, LINKYO Corporation is recognized for supplying top-quality products at low prices while providing world class customer service.
If you would like more information, please contact Customer Service at 1-888-434-1888 or customerservice(at)supermediastore(dot)com or visit the website at SuperMediaStore.com
###