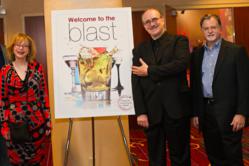 We couldn't be happier that Ultimate Blast brought together people who appreciate fine beverages with those that produce them.
- F. Paul Pacult, founder Ultimate Beverage Challenge and Ultimate Blast
New York, NY (PRWEB) October 20, 2011
On Friday, October 14, 2011 the founders of Ultimate Beverage Challenge, F. Paul Pacult, Sue Woodley and David Talbot, hosted close to 2,000 avid wine, spirits and cocktail enthusiasts at this year's most exciting consumer, trade and media tasting event - ULTIMATE BLAST. Held at the Marriott Marquis in New York City, Ultimate Blast transformed the hotel's Broadway Ballroom into the city's biggest cocktail lounge and nightclub, featuring hundreds of award-winning cocktails, spirits and wines. Guests were welcomed into an elegant, dramatically lit space to the smooth sounds of a live band. They were free to explore more than 70 exhibitor tables and six lounges that featured tastings of more than 100 cocktails, 300 spirits and 120 wines, many of which were being introduced to the New York market for the first time.
A photo album of downloadable high and low resolution images can be found here (photo credit - Daniel Krieger): http://www.ultimate-beverage.com/ub2011mediapics
Guests could choose from artisanal spirits, long-aged cognacs and single estate wines or indulge in an array of cocktails and punches created and served by some of the city's hottest mixologists like Jim Meehan/PDT, Joaquin Simo/Death & Co., Eryn Reece/Mayahuel and the ladies of LUPEC at the Remy Cointreau Lounge (Ladies United for the Preservation of Endangered Cocktails).
Attendees sat back with friends and shared in some communal toasting at any one of the six chic lounges hosted by ABSOLUT Vodka, Beefeater 24 Gin, Chatham Imports, Remy Cointreau USA, U.S.-Sino Liquors – with their unique selection of Chinese spirits and wines – and the lounge featuring such brands as Bacardi Rums, Dewar's Scotches, Bombay Sapphire East Gin, Grey Goose Vodka, DiSaronno and more.
Chairman's Trophy winners from the 2011 Ultimate Beverage Challenges were there in force to be tasted – winners such as El Tinieblo Mezcal, Michael Collins Irish Whiskey, Delord 25 Year Old Armagnac, Wakefield St. Andrews Estate 2006 Shiraz and the Cointreau Cup cocktail, just to name a few.
Many exhibitors used Ultimate Blast to introduce new products such as Masterson's Rye, t1 Tequila, Drambuie 15, Samogon Unaged Grape Spirit and I Spirit Vodka, amongst others.
"Sue, David and I want to thank all of the fine exhibitors, colleagues and friends – new and old - that attended our second Ultimate Blast to taste some of the best spirits and wines on the market," said F. Paul Pacult. "We heard great feedback from many people through the course of the night and we couldn't be happier that this event brought together people who appreciate fine beverages with those that produce them."
In addition to the tastings, guests were also treated to spirits and cocktail authors signing their books including: F. Paul Pacult (Ultimate Blast/Ultimate Beverage Challenge founder), David Wondrich, Jim Meehan, Jill DeGroff, Karen Foley, David J. Reimer Sr., Valerie Lum and Jenise Addison, and Daniel Searing.
There were far too many cocktails, spirits and wines served at Ultimate Blast to list here but all can be found at http://www.ultimate-beverage.com/blast-2011/ and cocktail recipes are available upon request.
ABOUT ULTIMATE BEVERAGE CHALLENGE
Ultimate Beverage Challenge (UBC) provides expert evaluation of wines and spirits for producers, importers and marketers through its three innovative annual competitions – Ultimate Spirits Challenge, Ultimate Cocktail Challenge and Ultimate Wine Challenge. UBC promotes the results from the Challenges to consumers, media and members of the trade through its Web site, email, videos and social media. In addition, UBC hosts a gala consumer, media and trade tasting event, Ultimate Blast, to showcase the most noteworthy wines, cocktails and spirits.
For additional information about the Challenges and to see photos, videos and press coverage go to http://www.ultimate-beverage.com or contact us directly at info(at)ultimate-beverage(dot)com or 1-347-878-6551.
Media: Contact Manuela Savona:1-917-969-1275 manuela(at)savonacommunications(dot)com
SAVE THE DATE for the third annual ULTIMATE BEVERAGE CHALLENGES in 2012
Ultimate Spirits Challenge on March 5-9, 2012
Ultimate Wine Challenge on April 23-27, 2012
Ultimate Cocktail Challenge on June 4-8, 2012.
"Like" us on Facebook
# # #