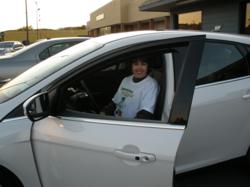 (PRWEB) October 21, 2011
Veteran sweeper Susan Curran won a 2012 Ford Focus in the CW TV Network Showroom Sweepstakes which she found through SweepstakesToday.com. (http://www.sweepstakestoday.com)
Far from her first big prize, Curran said she'd been entering sweepstakes for at least twenty years. Asked what she likes best about the contests she said, "I enjoy seeing what the sponsors are giving away and what everyone is winning." She considers entering sweepstakes her hobby.
Curran talked about some of her previous winnings, saying, "I've won gift cards to major retailers in various amounts, movie passes, cash; and much more; too numerous to mention"
"When my son was a child we/he won a trip to Universal Studios for 4 sponsored by Pizza Hut and Pepsi (via snail mail) we had a blast and that's when I got hooked on entering," she continued remembering her very first big win.
Curran joined Sweepstakes Today when she became a always-free member some ten years ago. Since the total Ford Focus package was valued at almost $28,000 the win put her easily into the exclusive 10K Winners club at the site.
"I was very excited," she said about being notified of the win by phone. "(At first) I was told I was a potential winner and that I could only tell immediate family, so I chose only to tell my husband until I was a verified winner."
Like many, Curran often enters on behalf of friends and family. "I have given them the prizes, such as gift cards, movie passes, and merchandise as well as gifts for holidays and special occasions.
###